Empanadas & Erie House: A Neighborhood Love Story
You probably know that Erie House has brought other non-profits, like Erie Family Health Center, into the world, and you might even know about the charter school we helped launch, but did you know we also played a role in the birth of one of Yelp's top 100 restaurants in the country?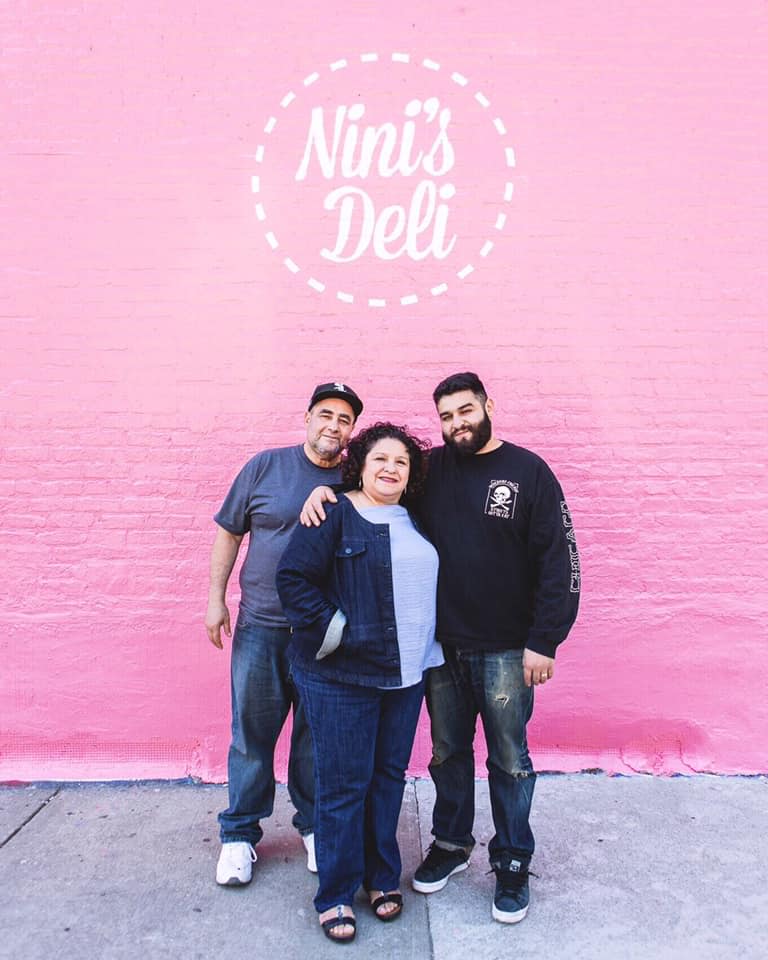 That's right, according to Nini's Deli owner Juan Riesco, the popular empanada spot on the SE corner of Noble and Ohio "…wouldn't be in the neighborhood if my mom and dad never met at Erie House."
It all started in the 1960s, when Juan's mother, Julie, and her family arrived in Chicago's West Town neighborhood from Tampico, Mexico and settled a few blocks from Erie House.
"One of my mom's first jobs was at Erie House, all of my aunts and uncles would go there during the summer, and it was always a place for my family to be safe," Juan recalls. Being one of the few Spanish-speaking families in the neighborhood, "Erie House was always a place where they could go and be free and at peace with who they were."
In the 1980s, Julie spent five years working in the call center at Erie. There were only two phone lines for the building, so if any two people were on the phone at the same time, her job was to hold all other calls until one of them hung up. Around the same time the family of Juan's father, Jose, started a small neighborhood store around the corner. One day Julie walked in and Jose "fell in love right away," says Juan. From then on, Jose looked forward to the days when he would load up his dolly and deliver crates of milk to Erie's after-school program, hoping to catch a glimpse of Julie at work.
Jose and Julie ultimately married and raised their family in West Town. Juan grew up playing in the Erie House gym and describes Erie as an 'intergenerational cornerstone' for his family. Now, as a local business owner, he sees how it is a cornerstone for others as well. "[Many of the] young people who are part of the programs come to our restaurant. They're regulars and I know them by name and we love having them," Juan says.
"It's so interesting that I serve them now because I think about how many years Erie House served my family, and so for me, that's a really special relationship. I went to Erie House recently to take a tour before I designed the [honorary street sign commemorative] t-shirt and so many of the young people ran up and gave me hugs. That was so special because it shows the impact… It shows how these young people see us, almost like fathers or parents of communities.
If I am able to transcend the business space and be more so a figure of peace for these young people, I can only imagine the types of relationships that Erie House has developed over the years."
Between Jose and Julie's grocery store that was their neighborhood business until 2000 and Nini's, which opened in 2011, relationships are key to the Riesco family. Over the years, Juan has seen that, "[w]hen you offer service, when you offer care to others, when you offer a listening ear or a helping hand and you do it in a selfless way, I believe most any business will be successful. When you look at the reviews there's something that stays consistent throughout the years, something people talk about in the reviews now that they spoke about back in the 80s and 90s, and that's service."
And, for Juan, that mission of service is a parallel with Erie House. Because what is the heart of Erie House? "The heart of Erie House is engraved on one of the stones as you walk into the building, 'for the glory of God and in service to God's children'. It says for the service, the action of servitude," Juan notes. "Erie House's roots in the spirit of servanthood is what has kept that place alive and thriving [for 150 years].
I truly believe that if they keep service at the center, they will continue to thrive and impact generations – just the way they've inspired my family to serve and to love our neighbors, I believe they can inspire other families and businesses to do the same."
Stay tuned for Part 2 of Juan's story next month.