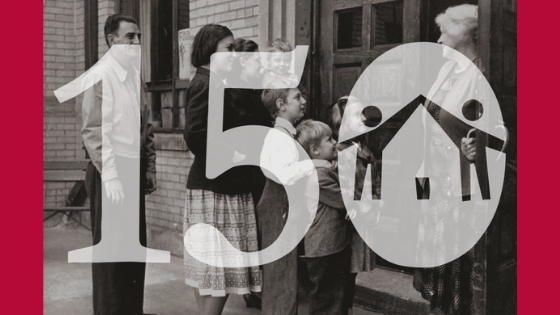 Erie House Will Honor Faegre Drinker, Healthy Communities Foundation, Presbytery of Chicago, and John Hall of Goose Island at 150th Anniversary Dinner
Erie Neighborhood House opened its doors to the people of Chicago 150 years ago, making us the oldest operating settlement house in the city. At our annual awards dinner on March 5, we'll celebrate our 150th anniversary of service and our history of impact, as well as some key partners who have contributed to our success over the years.
At the Erie House 150th Anniversary Awards Dinner, we'll honor: Faegre Drinker with our Corporate Legacy Award; Healthy Communities Foundation with the Foundation Legacy Award; the Presbytery of Chicago with the Community Legacy Award; and John Hall, founder of Goose Island Beer Company, with the Lifetime of Legacy Award.
Learn more about each of our honorees:
Corporate Legacy Award: Faegre Drinker
Faegre Drinker is our longtime legal partner and has generously offered their services pro bono for more than 70 years. The firm has also been represented on our Board of Directors consistently throughout our partnership.  
Of our longtime partnership, Nick Guzman, Erie House Board Chair and Faegre Drinker partner says, "We always want to do what we can as lawyers to give back to the community, and overall, Erie House has a great reputation as an organization in Chicago that helps families. At Erie House, we've found a partner that gives back in so many different ways. With Erie House, we get to use our legal skills to help an organization that's doing great things in the community, whether that's with immigration, family law, labor, or something else."
In 2007, Faegre Drinker (then Drinker Biddle Gardner Carton) was honored with our Legacy Award. Their 150th Anniversary Dinner honor will be presented by former attorney at the firm, Erie House mentor, and 2014 Community Leader Award winner, Deputy Governor Jesse Ruiz.
Foundation Legacy Award: Healthy Communities Foundation
Healthy Communities Foundation is one of our newer partners, but they're a trailblazer in their support, funding general operations for community organizations like Erie House and programs like Proyecto Cuídate, which addresses the need for affordable, high-quality and culturally affirming mental health services within our community.
Healthy Communities Foundation believes that communities within our region, each with their own unique ecosystems, hold the solutions to issues they face. Therefore, they value the partnerships they build with community through organizations like Erie House as they create the base to improving health outcomes and achieving health equity in our region.
Of our partnership, Healthy Communities Foundation says: "We cannot lose sight of the evolving needs of our communities. We're committed to learning from and co-creating with organizations who work directly with and understand the interconnected needs of the communities they serve, like Erie Neighborhood House, who has also evolved during their own 150-year history."
Community Legacy Award: Presbytery of Chicago
The Presbytery of Chicago is our oldest partner and has been with us since our inception. As we've evolved and expanded over the years—from Erie Chapel, to Erie Chapel Institute, and ultimately the organization grounded in the settlement house tradition we know today—the Presbytery has stood with us.
Erie Neighborhood House has a long and rich history with the Presbytery, reaching out, especially, to people who were newly arrived in Chicago. Over the years, Presbyterians have supported Erie House with their money, their prayers and their volunteer hours.
This year, the Presbytery of Chicago generously bestowed us with the deed to the House at 1347 W Erie St, which is valued at over $3.3 million. But of course, our 150-year legacy together is priceless.
Lifetime of Legacy Award: John Hall, founder of Goose Island Beer Company
John Hall has been a champion of our work for more than 30 years. When Goose Island's original brewpub opened in 1988, Hall sought out a local organization to support with its opening party, which resulted in a $25,000 gift to Erie House. A couple years later, John joined the Board of Directors and served for more than 25 years. Today, he is a member of our Honorary Board.
Early in Goose Island's venture into distribution, John brought in Erie House to provide ESL classes to his brewpub employees. John says, "I saw firsthand how impactful that was, and some people went on to rise up at Goose Island and have great careers there for 30 years."
John says he's chosen to support Erie House for all this time because he was attracted to the mission, the programs and most of all, the culture. "Anytime I had a bad day and went to Erie, it immediately became a good day. Everyone is so positive and the programs work, and it makes you feel good. A bad day turns into a good day."
John was previously honored with our Distinguished Grantor Award in 2011.

At the 150th Anniversary Dinner, Erie House will also honor Christian Dillon-Duque and Alissa Viesca with our Future of Promise Award. Their family has been involved in Erie House programs for their entire lives, and Christian and Alissa have chosen to give back to the organization in a big way — investing their time in our mentoring program and joining our team. Check out this video to meet Christian and Alissa.
The Erie Neighborhood House 150th Anniversary Awards Dinner is co-chaired by Com-Ed and PNC Illinois and will be held on March 5, 2020 at the Radisson Blu Aqua. All proceeds from the evening will go toward programs and services that open doors and create opportunities for the people of our community.
A cocktail reception will begin at 5:30 pm in the Atlantic Ballroom lobby, followed by dinner and the evening's program at 6:30 pm. The schedule of events includes remarks from Erie House leadership, awards presentations and a paddle raise auction.
For tickets or information about becoming an event sponsor, please visit eriehouse.org/annualdinner or call Rina Tsang, PJH & Associates, at (312) 553-2000.