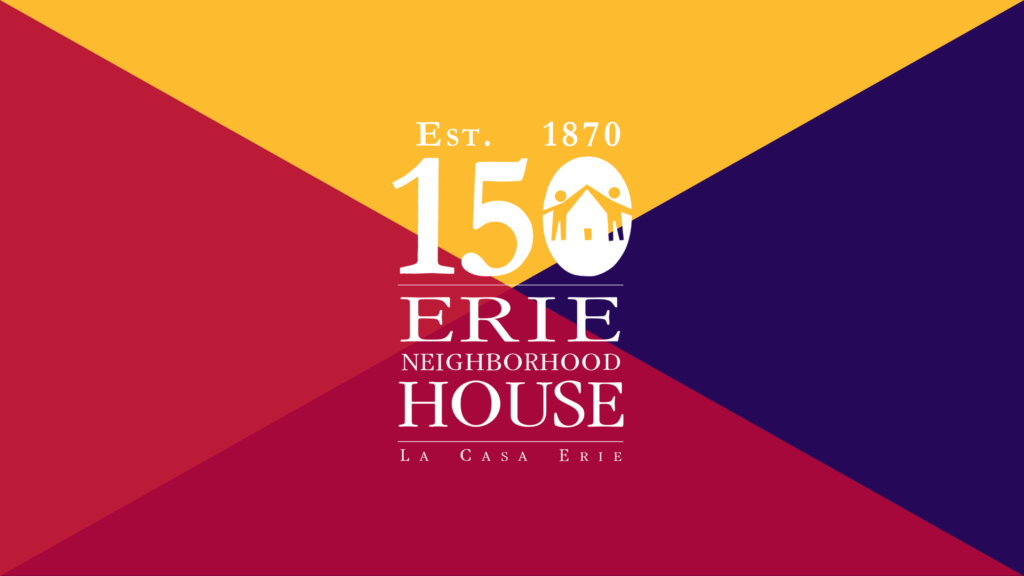 Erie House Announces New Additions to the Board of Directors for Fiscal Year 2021
Welcoming New Members
The Erie House Board of Directors is proud to announce the addition of four new board members: Elizabeth Binkley, Amanda Gomez, Risa Josias, and Nadine O'Malley. 
Elizabeth Binkley came to Chicago about 10 years ago, and has lived on the Northwest side of the city — in Logan Square and Humboldt Park — for seven of them. As a relative newcomer to the city, Elizabeth sought to more intentionally support her own local community and broader Chicago community at large.
Earlier in her career, travel was a big part of her work, which made connecting with her community more difficult. But now, in her role at PwC, she's more settled and found the Erie House board to be the perfect opportunity for her to have practical impact and get involved.
Growing up, her family often traveled to South America for her father's work, so Latin American culture was a large part of her upbringing. Additionally, her mother worked with the United States Department of Education to research the benefits of Early Childhood Education. These elements of her background have helped to shape her interests and focus and made Erie House stand out as the perfect organization to get involved.
Amanda says: "Erie House has such a phenomenal history of impact, and I'm excited to be part of it."
Amanda Gomez is the Chief of Staff to the Senior Vice President of Governmental Affairs at ComEd. Amanda is an alumnus of the University of Chicago Law School and continues to practice law, giving back by doing volunteer and pro bono legal work for Chicago organizations like Erie House.
Amanda considers herself to be a Chicagoan through and through, having grown up in Pilsen and now as a resident of the West Loop with her two sons.
Mentorship is very important to her: "it's vitally important to be an example — it opens opportunities when you see people succeed from where you came from." As the first in her family to go to law school, Amanda feels she was lucky to have educators and mentors who pushed her toward different options and career choices.
As a member of the Erie House Board, Amanda is excited to bring her perspective and authentic self to the table, as well as her legal experience as a member of the Governance committee. 
Risa Josias joined the Erie House board after attending the United Way's Board Leadership Institute training program. Following a matching process at the end of the program, she selected Erie House as her board service organization of choice.
She was particularly inspired by the Erie House mentorship program, having previously volunteered with Big Brothers, Big Sisters and coming with an understanding of the value of mentoring. Risa also expressed that support for immigrants and asylum seekers are issues she feels passionate about, and seeks to ensure all the people living in our city and our country have access to support in opportunities.
Risa grew up in Michigan, has lived in Chicago as for about 10 years, and is currently Logan Square resident. While on the board, Risa is looking forward to supporting with Erie House's initiatives and working to fundraise, recruit, and advocate for the organization.
Nadine O'Malley is a longtime supporter of Erie House, having attended the annual dinner for several years with her husband, Bill O'Malley, owner of John Burns Construction, one of Erie House's most committed corporate partners. After attending the dinner and hearing the stories of the people Erie House supports, Nadine decided she wanted to do more to support the organization and have an even greater impact.
Nadine is a General Contractor with her residential rehab company, HOME, and is also a member of the Board for an organization that empowers and educates women in Tanzania.
While on the Erie House Board, Nadine is interested in being involved in Programs and the ways Erie House supports families in a variety of ways, from language classes, to childcare, to employment assistance, to citizenship and beyond. She also seeks to bring her experience to the table in Operations.

Congratulations Nadine and Amanda, and welcome to the Erie House Board!

Changes to the Executive Committee and Elected Committee Chairs
For the fiscal year 2021, Nicolas Guzman has been officially voted in as Board President, and Craig Castelli as Vice President. Our newest additions to our executive committee are Board Treasurer Heather Mejia and Board Secretary Carlos Ramirez.
Dan Hartnett and Gail Taggart have joined Patricia Perez as members-at-large of the Erie House executive committee.
We're also proud to announce our FY2021 Committee Chairs:
Frances Delgado, Resource Development
Chris Terzich, Governance & Oversight
Stephanie Kanter, Programs
Kahlil Hogan, Operations
We also want to thank Steve Fox and Paul Gassel for their many years of service on our board — you've been an incredible addition to the team. Steve and Paul will continue to stay connected as Erie House supporters, and we look forward to continuing to work together!