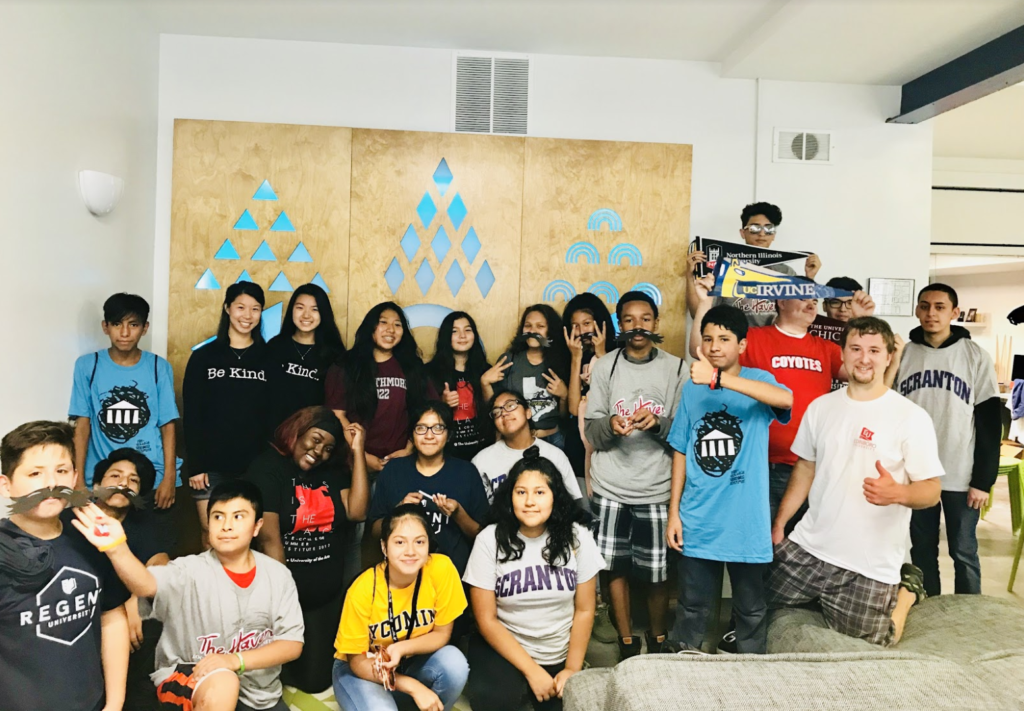 Erie House featured in Lady Gaga's Born This Way Foundation anthology book: "Channel Kindness"
We're so excited to finally announce that Erie House is featured in the new book "Channel Kindness" from Lady Gaga's Born This Way Foundation.
Amy Sun, now part of the team at Google, shared the story of her time volunteering in the Erie House TEAM program in 2018, spreading kindness through coding and getting our students excited about going to college.
Amy is a self-taught coder who wanted to help get her mentee — a 5th grader named Will — interested in STEM and thinking about his future. So, during her time as a TEAM mentor, she developed a Google scripts code to easily send emails to every single college in the country. In this email, she had one simple request: swag for our students!
To her surprise, a lot of the colleges answered her request and really came through, sending t-shirts, pennants, backpacks, stickers, notebooks, and more to distribute to Erie House students.
This small act of kindness from so many schools inspired the kids to want to go to college and start thinking about their school of choice. Of the almost 30 students in the program that year, everyone got to take home two or three items.
Two years later, many of these kids are still part of our TEAM program and are working hard to go to their dream college.
Amy says that through her experience with Erie House, she's realized that "one person can make a difference."
Thank you Amy for sharing this story!
About Channel Kindness
From the Born this Way Foundation:
As the Born This Way Foundation co-founder, Lady Gaga, shared in the past, spreading kindness is the inspiration for her life's work and art. It's why she, along with her mother, Cynthia Germanotta, founded Born This Way Foundation and build programs that validate the emotions of young people and demonstrate the transformative power of kindness.
Born This Way Foundation research shows that young people who describe living in kind communities report higher mental health scores. By highlighting everyday acts of kindness through the CHANNEL KINDNESS book, the foundation is providing inspiration to young people that need it and everyone to join us in their mission of creating a kinder, braver world.
What is the purpose of CHANNEL KINDNESS?
This book is the marker of a movement built by young people who want to show that telling your stories can help heal and empower communities. Since the inception of Born This Way Foundation, they have amplified the voices of thousands of young people through their research, their candid conversations, and now, through this book. Over the past eight years, they have collected stories of kindness, bravery, and resilience from young people all over the world, proving that kindness truly is the universal language.
Through this book, we aim to inspire others and help them realize they are not alone. Now, we invite you to pre-order the book and follow along as each and every author shares their powerful story just as Lady Gaga has shared hers.
What does the title mean?
The idea for the title stems from the foundation's youth storytelling platform launched with the purpose of empowering young people to share their stories of kindness, bravery, resilience, courage, and community. The Born This Way Foundation hopes that by highlighting the people and organizations that are doing good in their communities, CHANNEL KINDNESS' audience will be inspired to create a kinder and braver world, one story at a time.
What does the Born This Way Foundation hope the book accomplishes?
Individually and collectively, these stories prove that kindness not only saves lives but builds community. Kindness is inclusion, pride, empathy, compassion, self-respect, and the guiding light to love. Kindness is always transformational, and its never-ending ripples result in even more kind acts that can change your lives, your communities, and your world.
Consider this book an invitation for you to share your stories! If you, a friend, or someone in your community is interested in sharing your story, please visit channelkindness.org to connect with Born This Way Foundation's team and get started.
How were these stories selected from the others on the website?
Each chapter was carefully selected out of the many unique stories found on Born This Way Foundation's platform ChannelKindness.org. Each story on the website is powerful, valid, and beautifully told. It was very difficult for the team to select what stories would be in the book because they're all so incredible! They wanted to make sure the stories in the book were representative of their audience, covered a wide variety of topics and issues, and were told by a diverse set of authors.
Who benefits from the proceeds of this book?
Proceeds from the book help support Born This Way Foundation's work, programs, and research. The Foundation focuses on modeling healthy conversations about mental health, connecting young people with resources and services — online and offline — and building communities that understand, prioritize, and foster good mental health.