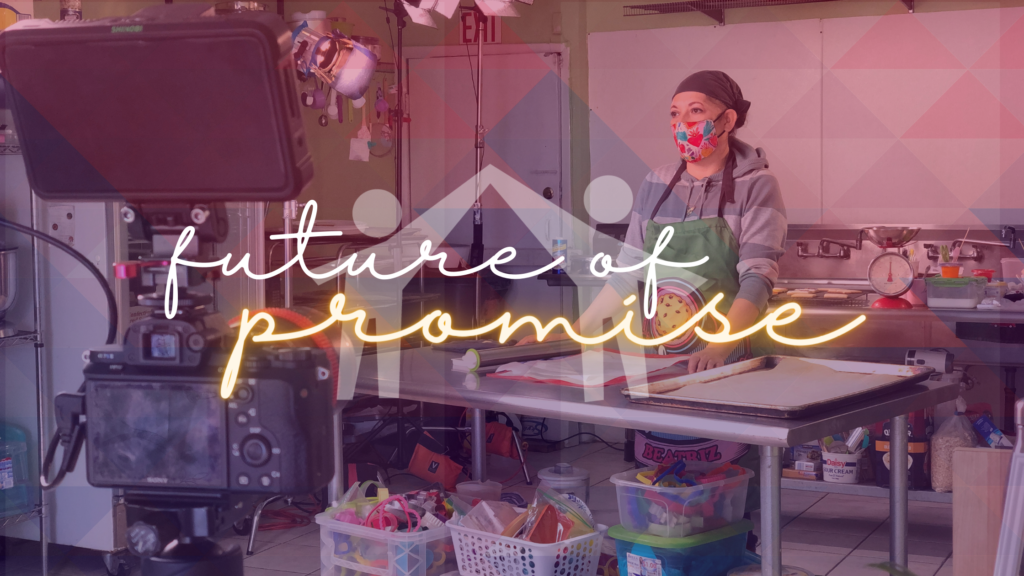 Learn more about Erie House programs during the 2021 Future of Promise | Futuro de Promesa Virtual Event
During our first virtual Future of Promise | Futuro de Promesa event, we'll take you to all four of our locations and introduce you to the people involved in our Health & Leadership, Youth Options Unlimited (YOU), Early Childhood Education, Citizenship, Legal Services, and Proyecto Cuídate programs.
You'll also get an inside look at Butterfly Cookies, a West Town neighborhood bakery owned and operated by Beatriz Navarro, a graduate of our English as a Second Language (ESL) program.
RSVP now to attend the free event
Program and Participant Highlights 
Beatriz
When Beatriz first joined Erie House's ESL course about 10 years ago, she knew very little English and had few connections to resources or her community. She had recently moved to Chicago from Guadalajara, Mexico, and once here, often struggled to find the courage to venture out from her home. But Beatriz learned about an organization a couple blocks from her home where she could receive the support she needed to succeed.
Today, Beatriz is an Erie House English program graduate and community leader. She is also a confident business owner, opening a new bakery storefront in West Town called Butterfly Cookies. Why butterflies? Beatriz says: "I love butterflies because to me they mean freedom, and butterflies are migrants like me."
Beatriz is also a recent award winner! Last year, she received the Spotlight on Achievement Award from the Illinois Secretary of State's office. Learn more about Beatriz on our blog here.
Ignacio and Dulce 
Ignacio, or Nacho as we know him at Erie House, is an integral member of our Health & Leadership Programs team. After coming to Erie House as an English student over 20 years ago, today Nacho pays it forward to the community, equipping our participants and families with the tools, resources, and knowledge they need to be safe, healthy, and achieve overall wellbeing.
His daughter, Dulce, has been coming to Erie House for as long as she can remember. Now, she's a student in our Youth Options Unlimited (YOU) program, a lover of theater and performing, and a student in Visionaries, which is a multimedia apprenticeship at the intersection of STEM and the arts.
Imelda 
In our Citizenship program, we help students prepare for and succeed in their naturalization exams and interviews, including Imelda, who recently took her citizenship exam and passed! Because of the coronavirus pandemic, Imelda participated in our Citizenship course online and she says she cannot believe she received so much support from Erie House at no cost to her. 
Adriana, Margot, and Ellie 
Adriana is a parent to two girls in our Early Childhood Education program — Margot and Ellie — and is president of our Parent Policy Committee and a member of our Board of Directors. At our virtual event, you'll hear from Adriana about how Erie House has supported her girls not only academically, but has provided critical mental health services for both Adriana and her daughters. 
David
More than 15 years ago, Erie House expanded our programming to Chicago's Little Village neighborhood. One of this site's flagship programs, Proyecto Cuídate, our community wellness and safety initiative, is also one of our fastest-growing departments.
During the Future of Promise | Futuro de Promesa virtual event, you'll meet David, a Youth Ambassador for our Proyecto Cuídate program who found a place where he felt heard, respected, and valued at Erie House. You'll also learn about how David has devoted himself to helping students like him navigate the college application process.
A sneak peek at Erie House Near West 
Get an inside look at our newest location where we're expanding our fast-growing Early Childhood Education and Legal Services programs!
Christina Karioris, Site Director for our Early Childhood Education space, and Megan Davis, Director of Legal Services, will give a tour of the new location and a sneak peek at the incredible work we'll do there when we open for participants this year.
RSVP early to receive a treat! 
The first 150 registrants for this event will receive a special treat to enjoy during the event — delivered straight to their home — from Butterfly Cookies!
RSVP now to secure your delivery!
During the event, viewers will be able to donate to support our programs and services by simply texting "ErieHouse" to 41444. Donations will ensure we can continue to grow and evolve for our community for generations to come.
We'll see you on March 11!