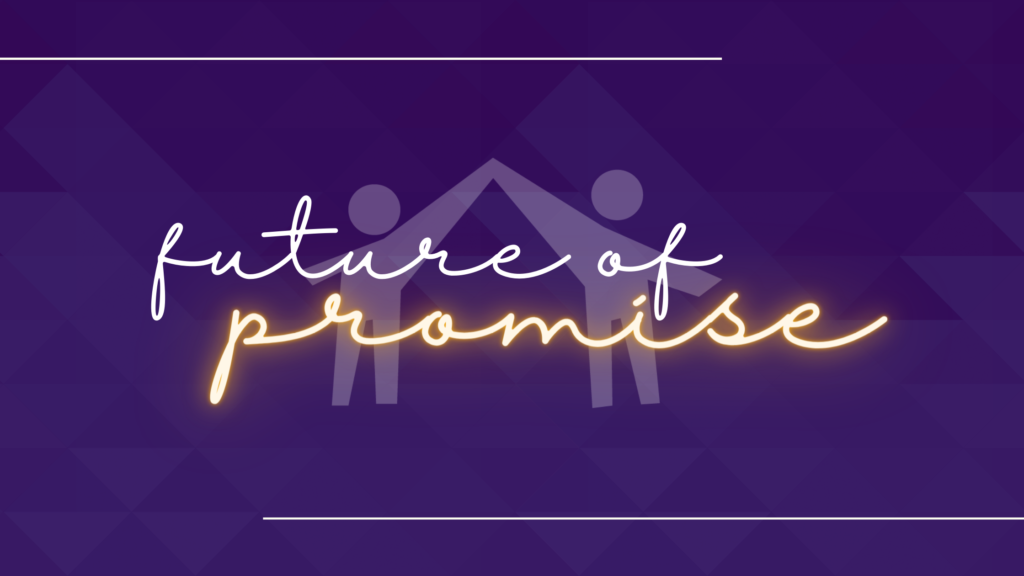 Future of Promise | Futuro de Promesa Event moves online for 2021
At the annual Future of Promise Dinner, we showcase our impact, hear from our incredible participants, and honor partners who help make our work possible.
In 2021, due to the coronavirus pandemic, this event is moving online for the first time ever. On March 11, 2021 at 6:00 p.m. CT, we'll present an engaging video program to bring Erie House to your house and introduce you to our people and bring you into our spaces.
Click here to RSVP now for this free virtual event.
Event Chair: John Burns Construction Company 
John Burns Construction Company has been an incredible, hands-on partner to Erie House over the years, consistently stepping up in a big way from wrapping gifts at our annual Holidays with Heart gift-giving event, volunteering at our 150th Anniversary block party, and growing their support for the Future of Promise Dinner over the years.
We're so grateful for their partnership and honored to have Bill O'Malley of John Burns Construction Company serve as our Event Chair for the 2021 Future of Promise | Futuro de Promesa Virtual Event. 
2021 Future of Promise | Futuro de Promesa Honorees 
Community Investment Award: American Medical Association 
The AMA has been an incredible partner to Erie House since 2019, forging a relationship built on a shared commitment to supporting communities with impactful, culturally-relevant programming.
Over the last year and throughout the pandemic, we've seen the AMA rise to the challenge and commit to partnering with and investing in organizations like ours that share their goal of improving the health of our communities.
At Erie House, we've personally felt the enormous value of the AMA's commitment and trust in our work. We're so excited about our partnership and how it's grown, and we can't wait to see how this relationship continues to evolve in the years to come.
Dr. James Madra will be accepting the Community Investment Award on behalf of the American Medical Association.
Corporate Impact Award: Cigna 
As a client, Erie House receives incredible support from Cigna, especially as our team transitioned to a remote work environment.
When the pandemic began, Cigna made sure their clients wouldn't have to worry about whether they'd be able to take care of themselves. They increased their communication and provided additional resources and support — particularly around mental health, which is so critical during this stressful time and a major focus for Erie House's wellness initiatives.
We are grateful for Cigna's people first approach and for the growing relationship, allowing Erie House staff to continue our work with peace of mind.
Brian Marsella will be accepting the Corporate Impact Award on behalf of Cigna. 
Diversity, Equity, Access & Inclusion Award: Carole Robertson Center for Learning 
Over the last year, as many nonprofit organizations struggled with setbacks brought on by the pandemic, the strain was especially felt by those who served Chicago's students after our public schools closed.
As a member of a coalition of community-based early childhood education providers, Erie House joined the fight to call on our government for the support we needed to continue serving our families while keeping them safe during the COVID-19 pandemic.
The Carole Robertson Center for Learning and the Early Childhood Education CEO Roundtable — co-founded by Carole Robertson Center's CEO and former Erie House board member Bela Moté — was at the forefront of that fight, advocating for community organizations providing critical early childhood education and childcare for the families who were at the frontlines of the pandemic — the majority of whom were from Black and brown communities.
This was not a new fight for the Carole Robertson Center — which has been dedicated to advocating for policy changes that address education inequities in our communities for nearly 50 years.
Bela Moté will be accepting the Diversity, Equity, Access & Inclusion Award on behalf of the Carole Robertson Center for Learning. 
RSVP early to receive a treat! 
The first 150 registrants for this event will receive a special treat to enjoy during the event — delivered straight to their home — from Butterfly Cookies, a West Town neighborhood bakery owned and operated by Beatriz Navarro, an Erie House English as a Second Language (ESL) program graduate.
RSVP now to secure your delivery!
During the event, viewers will be able to donate to support our programs and services by simply texting "ErieHouse" to 41444. Donations will ensure we can continue to grow and evolve for our community for generations to come.
We'll see you on March 11!