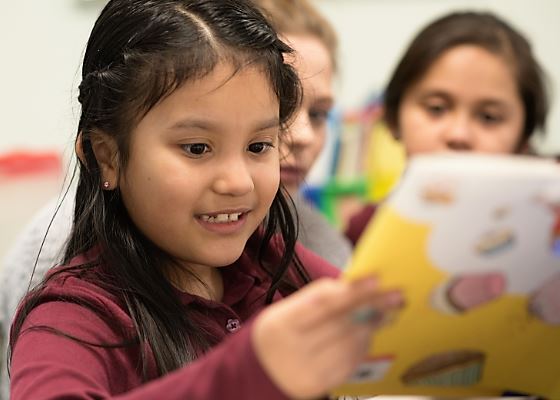 $30,000 Grant Will Support Literacy Program in Little Village
The LV READS literacy intervention program at Erie Neighborhood House received a $30,000 grant from Chicago Tribune Charities – Holiday Campaign, a McCormick Foundation Fund.
The grant will support the infrastructure of READS, which works with 50 students in grades 1 through 3 in Chicago's Little Village/South Lawndale neighborhood. Erie House was able pair the grant with additional funding sources to hire a new program facilitator to work alongside literacy coordinator Rachel Serra.
"This addition will allow us to strengthen our existing curriculum and enhance our ability to provide social emotional support to students," says Serra of the position that was added this spring.
She anticipates that the new facilitator will also help with recruiting and training volunteer tutors and mentions the possibility of expanding the initiative's reach to meet the needs of children at other Erie House sites in West Town and Humboldt Park.
By the time students in the READS program reach third grade, 91% of them are reading at or above grade level.
The Chicago Tribune Charities – Holiday Campaign, a McCormick Foundation Fund made grants to a variety of skill-building initiatives for individuals and families in the Chicagoland region, including the growth of literacy proficiency levels for children in kindergarten through 3rd grade.
The READS program aligns well with this focus. It has demonstrated a high level of success in supporting literacy gains in Little Village, where only 24% of residents hold a high school diploma and 30% live below the Federal Poverty Level (FPL).
Students are enrolled in the program upon being referred because of low language and literacy scores; by the time they reach third grade, 91% of participants are reading at or above grade level.
That, according to Serra, is a critically important benchmark.
"Research shows how important it is for children to be reading at grade level by the time they're in third grade," she explains. "Knowing the impact that will have on our students' future is a significant motivating factor."
Students attend the after-school READS program two days each week during the school year. They work individually and in small groups with a volunteer tutor, participating in hands-on activities that promote comprehension, vocabulary development, decoding skills and oral fluency.
The program also hosts quarterly family literacy events to promote reading at home and operates a summer program to support reading retention over the break.
For more information on the READS program at Erie House, please visit www.eriehouse.org/READS.