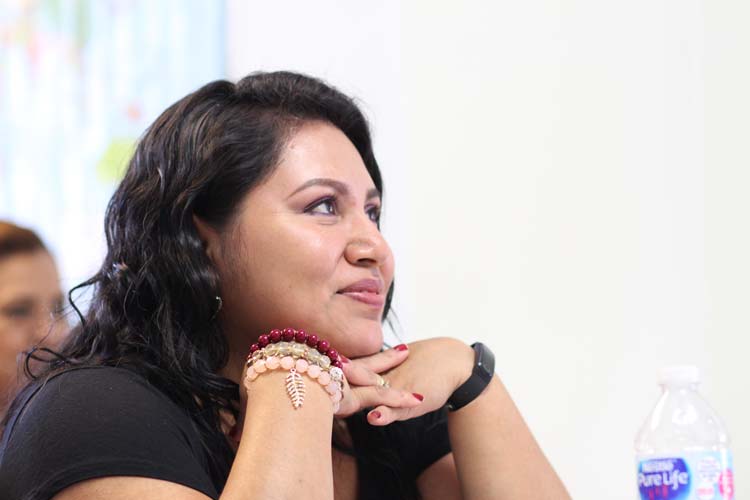 ABE Helps Students Build on Foundation and Construct a Brighter Future
Erika, a student in the ABE program at Erie Neighborhood House in Little Village, stands at a white board with dry erase marker in hand. When she reaches the blank in the sentence she is reading aloud, she pauses. She glances at an acronym—FANBOYS—adjacent to her sentence, written vertically, and then announces her choice and fills the blank with it: B-U-T.
(FANBOYS is a pneumonic device to remember a few conjunctions—for, and, nor, but, or, yet, so—used to build more complex sentences).
The instructor, Maria Villafuerte, checks with others students in the classroom. Heads nod and a consensus is reached. "You got it!" says Villafuerte. Erika smiles and dances a quick jig in front of the class before returning to her seat.
A dozen students are present in the classroom, and one by one they take turns practicing with the conjunctions they're incorporating into their vocabulary today.
ABE is shorthand for Adult Basic Education; it serves as a sort of bridge between ESL classes, which focus primarily on language and literacy skills, and the multidisciplinary requirements of a GED and/or post-secondary education program.
The Erie House program incorporates contextualized reading, writing, and speaking along with math, science, technology and workforce readiness. It is made possible by grants from Chicago Tribune Charities, a fund of the McCormick Foundation, and the Dollar General Literacy Foundation, as well as public funding through the Illinois Community College Board.
Villafuerte has taught in the program since it launched 2 years ago, and she has worked hard to design a classroom environment where each individual is valued and affirmed.
"Part of my job, and my overall goal, is to help students realize that they are stronger than they give themselves credit for," she explains. "They are amazing individuals, each one with a great set of skills and talents. I hope that by being in my classroom, they can start to see those talents as readily as I can and start to pursue those personal goals with confidence."
There are a variety of reasons for students to enroll in the ABE program at Erie House. Some are there hoping to complete a GED and continue their education at a community college or vocational school. Others want to take more ownership in their children's education or in the day-to-day activities of their own personal lives.
Villafuerte aims to meet each individual in her classroom wherever they are and help them reach their potential. This sort of commitment means the world to students like Sulem.
Sulem moved to Chicago 16 years ago from the state of Guerrero in Mexico and lives a short walk from the Erie House site in Little Village. She likes that everything is close by: laundry, groceries, public transit. Her daughter is 11 and goes to Zapata Elementary, a Chicago Public School right across the street from their home.
"This is my first year in ABE. Everything is new," she says. It had been 20 years since she was last in a classroom when she enrolled in the Erie House ESL program program in 2015, so naturally some of those less utilized skills felt a bit rusty.
After progressing beyond the scope of ESL classes, Sulem was referred to the ABE program. "The math is a little bit difficult for me," she explains, "but I'm learning a lot."
The classroom environment, which is both interactive and supportive, has been a great aid to that learning. "When I have questions, the teacher or my partner helps me," she says.
Villafuerte explains that this is critical to her classroom objectives, and it is also something that motivates her as a teacher. "Watching students support each other in the classroom is truly a heartwarming experience," she says. "Our class philosophy has become something along these lines: 'Try—if you make mistakes, what's the worst that can happen?'"
"Now we laugh when we make mistakes and have learned to cheer each other on when we don't know how to proceed with a question," she adds.
The ABE classes aren't just about learning a language, improving vocabulary or solving math problems. They engage students in problem-solving and critical thinking, helping them develop skills that can be applied to a variety of settings and vocations.
On top of all that, they're a space in which to build community.
Sulem admits that some days she doesn't want to come to classes. The demands of raising a daughter, taking care of chores around the house and other errands can overwhelm, and spending a half day at Erie House 4 days a week can feel like an awfully big commitment.
In those moments, having a strong classroom community to support her makes a difference.
Her daughter has provided motivation, too.
"She tells me, 'Go, Mamá. It's good for you,'" says Sulem, laughing as she thinks about the role reversal a 5th grader can play. "And sometimes she comes here with me, and she says, 'I like your class!'"
Erika, the student who was up front during the conjunction exercise, feels similarly about the classes. "Every day I learn something new. I like how Maria teaches us," she says. "It's fun. It's entertaining."
"She tells me, 'Go, Mamá. It's good for you,'" says Sulem, laughing as she thinks about the role reversal a 5th grader can play. "And sometimes she comes here with me, and she says, 'I like your class!'"

– Sulem, student in Erie House ABE program
She completed schooling in her native El Salvador, so a lot of material covered in the ABE classes is familiar. For the more challenging topics, Villafuerte has been able to provide Erika with the support she needs. "She explains things well, and that is very helpful to me," she says.
Her confidence has grown, having progressed through ESL courses at Erie House prior to enrolling in the ABE program. "I want to learn more English," she says. "Sometimes I feel nervous and scared when I need to speak English—when somebody talks to me at the store or something like that." Erika says her end goal is to complete her GED and find a good job.
Developing these aspirations is what it's all about for Villafuerte. "Teaching also allows me to give my students the tools that they need to be successful members of their community," she says. "And I get to be their greatest advocate/cheerleader in the process."