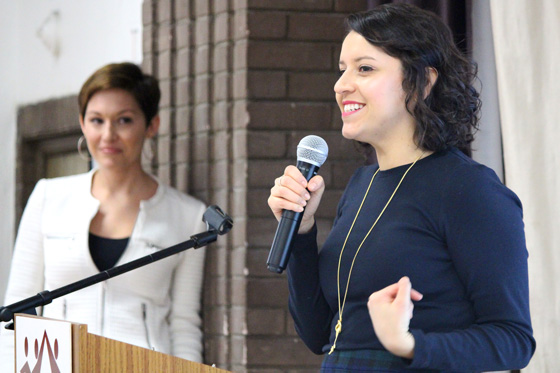 Catching up with Evelyn Rodriguez
When Evelyn Rodriguez left Erie Neighborhood House in 2014 to become the director of community outreach for Chicago's 1st Ward, she was following a growing passion she experienced for public service.
That same passion has now led her into a new role with the City of Chicago, where she began serving as advisor for neighborhood development and community engagement in December.
"I'm most excited about having the opportunity to serve residents citywide," says Rodriguez, who works directly with Deputy Mayor Andrea Zopp on initiatives to strengthen all 77 of the neighborhoods across the city.
The daughter of Mexican-American immigrants, Rodriguez looks forward in particular to serving as a liaison to and advocate for the city's Latino residents.
"We have a vision," she says. "We want to give all citizens of Chicago a voice; we want residents to feel empowered and be heard. It's a collaborative effort in building a better Chicago for all."
She explains that her office seeks to increase engagement with individuals and build more collaborative partnerships between the mayor's office and city services, community organizations and the neighborhoods themselves.
Rodriguez joined the staff at Erie House in 2011, following 3 productive years working on policy in Washington, D.C. While at Erie House she helped launch the agency's Buen HOGAR program, a Chicago Housing Authority partnership aimed at delivering greater access to Spanish-speaking residents in need of information and resources on housing opportunities.
For Rodriguez, the role helped ground her upon her return to Chicago from the nation's capital. "It was a perfect starting point for me to re-engage with my neighborhood and with folks in the city," she says. "Not only does Erie House deliver services, it reinforces a sense of community. I got so much from the community while working at Erie House."
"Evelyn is clearly grounded in her desire to help others," says Erie House executive director Kirstin Chernawsky. "Her passion and skill set in the area of community engagement will prove to be strong assets for the city of Chicago."
To that end, Chernawsky invited Rodriguez to speak at a recent Welcoming Action Lunch hosted at Erie House in collaboration with My Block, My Hood, My City; the Indo-American Center; Chicago Lawyers' Committee for Civil Rights; Alderman Joe Moreno (1st). It was the perfect setting for Rodriguez to gather input from a diverse set of voices as Chicago seeks to embrace its welcoming stance for marginalized communities in even greater ways.
Rodriguez now lives in the same neighborhood where her parents lived when she was born—a short walk from the agency's historic settlement house site in West Town—and serves as a community representative on the local school council for James Otis Elementary School.
"My parents came here from Mexico in the 1970s to create a better life," Rodriguez explains as she talks about her commitment to public service. "That has been my main drive—it's rooted in the dream my parents had for my family."