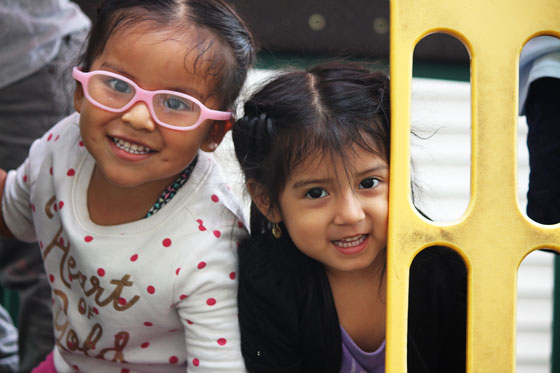 Inside the Daisy classroom at Erie Neighborhood House, children sit on carpet squares arranged in a circle. Their teacher, Cristina Delgado, sings a familiar nursery rhyme:
Three little ducks went out one day
over the hills and far away.
Mama duck said, "Quack, quack, quack, quack!"
But only two little ducks came back.
The kids rock side to side and flap their arms to mimic a duck's waddle and join Ms. Cristina sporadically in the song, a word here or a phrase there, but particularly on the quack, quack, quack, quack part.
With each verse she dismisses additional children to go use the bathroom (and wash their hands!), grab their coats and sit down at a table with a book while their classmates get ready.
One child, Jovani, chooses a book called Niño Wrestles the World, by Yuyi Morales. It is a story about a boy whose dream is to become a famous Mexican luchador who outwrestles each of his opponents. That is, until he meets his match in the form of his younger twin sisters, at which point the three form an unstoppable tag team. The story and its illustrations are delightful, and Jovani's eyes glow with excitement as it is read to him.
Jovani seems disappointed when it is time to put the books away, but this quickly dissipates when he is reminded that he and his classmates are headed outside. The children line up at the door, not unlike a brood of ducklings, to follow their teacher en route to the playground.
Daisy is one of 11 classrooms in the Early Childhood Education program at Erie House, which serves 175 children ages 2-5 and their families is accredited by the National Association for the Education of Young Children (NAEYC). Earlier this year the program also earned Illinois ExceleRate's Gold Circle of Quality, the highest designation awarded by the state's pre-K assessment office.
"That recognition is coming from the classrooms," says program director Louis Falk, praising his teachers and staff. "We have high-quality teachers and support staff in our classrooms," he continues, "and they work really hard."
Falk is retiring this month after investing more than 30 years at Erie House as a classroom teacher and administrator in the program. Known affectionately by kids, families and staff alike as "Mr. Louis," he has advocated over the past 3 decades for a holistic, developmentally appropriate approach to educating young children.
"We have high-quality teachers and support staff in our classrooms, and they work really hard."

– Louis Falk, Director of Childcare
To that end, classrooms at Erie House are set up to promote individualized learning, so kids may float between numerous learning centers—the block area, dramatic play, a quiet space for reading or a sensory table filled with sand—depending on their interests, needs and availability. This approach feels almost Montessori in nature, allowing children to explore their interests, learn through scaffolding, and express themselves freely.
But that's not to say there isn't structure.
Each morning, teachers lead an interactive "circle time" highlighted by songs, stories and the all-important assignment of classroom roles like line leader or lunch helper. Children also spend time journaling, developing language and literacy skills in the process and learning that their imaginations and stories have meaning and value. A typical day might also include a walk to a local playground, a visit to the nearby branch of the Chicago Public Library or time in the motor skills room at Erie House.
The year-round, all-day program allows parents to work or go to school with the assurance that their children are well cared for and supported. It is made possible by federal and state funding, paired with grants from the IMC Charitable Foundation, United Way of Metropolitan Chicago and Barker Welfare Foundation as well as ongoing support through PNC's Grow Up Great initiative.
All this investment is paying off.
Last year, 91% of 5-year-olds in the program were assessed as "kindergarten ready" according to widely held expectations for language, literacy, math, cognitive and socio-emotional skills. This foundation is crucial to their continued growth and development.
Mr. Louis has also ensured that the program at Erie House is also supported by a full-time psychologist, LCSW and family workers to address the variety of cognitive and socio-emotional needs presented by children and their families. "There are a lot of challenges that our families face," says Falk, naming factors such as experienced trauma, economic instability and lack of access to services.
He goes on to explain that thanks to this circle of support, Erie House is able to meet these challenges and work with families to overcome them. "Our program is unique," he says. "Not only do we provide play therapy, we're also providing counseling and workshops to support families."
The play therapy component is critical, says assistant director Matilde Romero. "Children with socio-emotional needs engage in play therapy with masters-level students under the direction of a clinical psychologist, and this is available to our children at no extra cost," she explains. "This gives them a way to learn how to cope and express their needs using play and skillful, intentional interactions."
Children with other physical, cognitive and/or behavioral needs outside the scope of play therapy receive support as well, Romero adds. "Our social worker helps families every step of the way," she says, "including following up on the evaluation process, accompanying parents at meetings and advocating for services."
When the Daisy room kids return to their classroom, they sit down again to talk about their walk outdoors—what they saw, how it felt in the suddenly fall-like weather, and what they liked most. The children spend time journaling in their individual notebooks before transitioning to choice time.
The 5 Little Ducks song Ms. Cristina sang earlier will be used again and again throughout the year—in preschool, as is so often true in other aspects of life, there is power in repetition.
To the casual listener, the song might be concerning. With each verse, the mother duck loses one of her ducklings until her brood is empty. But if you make it all the way through, the final verse reveals with a certain sense of delight that all five ducklings do in fact come waddling back.
It's a good metaphor for the Early Childhood Education program at Erie House. Here children are given the space they need to explore and learn and grow, yet they're never able to wander too far away from the nurturing care and support teachers and staff are equipped to provide.
And when they do eventually leave the proverbial nest, transitioning to kindergarten and beyond, they are prepared for the adventures that lie ahead.