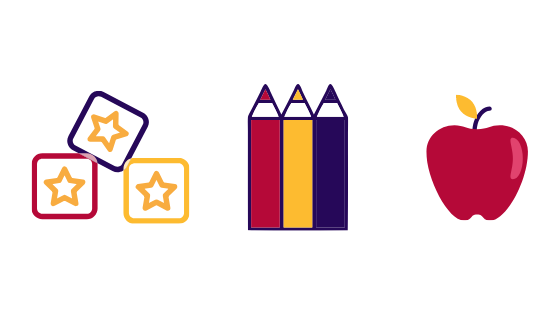 Early Childhood Team Builds Community and Continues to Support Families While Looking to the Future
At Erie House, our NAEYC-accredited, full-day early childhood education program provides a safe, nurturing space for children ages 2-5, supporting working parents in the process. Our child-centered curriculum develops crucial kindergarten-readiness skills, with 97% of our 5-year olds meeting literacy expectations. Our classroom teachers also collaborate with a clinical psychologist and family workers to foster cognitive, socio-emotional and physical well-being for the children in our program.
Our early childhood team has adapted with the current times to change how they serve our kiddos and their families, building an online community of support. And even though our doors are currently closed, we're continuing to offer mental health support and counseling for our families and looking toward the future of our programs.
An Online Community of Support
For our team that is very used to working closely with our children and families, transitioning to working with physical distance and technology has been a unique challenge. Not only do the kiddos in our program miss their teachers, but our teachers miss their students.
To stay connected with students to share resources, activities, messages, and other information, our teachers use Class Dojo. There, families can share photos of their children completing educational activities and learning things like how to write numbers and their names. You can see some of these photos on our Facebook page!
Our team of Family Advocates are also in the process of setting up regular classroom meetings and parent policy committee meetings over Zoom to help our families connect with one another in addition to our team.
Our teachers contact every family once a week for wellness checks about their immediate needs like food, diapers, wipes, and other critical things for families including counseling and support. The team connects these families to our Community Relief Fund, and sometimes our team of counselors for further mental and emotional support as they work through this difficult and stressful time.
Our disabilities coordinator and social worker Elizabeth Almanza also hosts and records a story time to share with our kiddos where she reads a book about social and emotional challenges.
Looking Forward: New Early Childhood Education Centers and Home Visiting Programs for New Families
It's in the Erie House DNA to continue to adapt and evolve to serve the needs of our community, and even in the midst of a pandemic, our team continues to do just that.
Even as we all do our work remotely, our early childhood team is still hard at work planning and recruiting for our new Healthy Families Initiative (HFI) and Early Head Start Home Visiting programs. Last week, our Child Care Director Ann Grecek and her team visited one of our new early childhood education locations on the Near West Side to see the progress of the construction.
So, when the pandemic ends, our team will be ready to support even more families through these new programs and locations. Please continue to follow along for more updates on these exciting new endeavors.
In order to help our participants meet more of their immediate, basic needs, during our closure do to the COVID-19 pandemic, we created a Community Relief Fund. All donations to this fund go directly to our participants, including those who are undocumented and have limited access to public benefits. If you're interested in directly supporting or participants during this time to help them cover costs like rent, utilities, groceries, and more, you can visit eriehouse.org/CRF.
Keep following our blog or sign up for our newsletter at the bottom of this page to stay in the know about how the Erie House team is going above and beyond to support our community during the COVID-19 crisis.
You can also learn more about our response to the coronavirus pandemic and access additional resources at eriehouse.org/covid19.