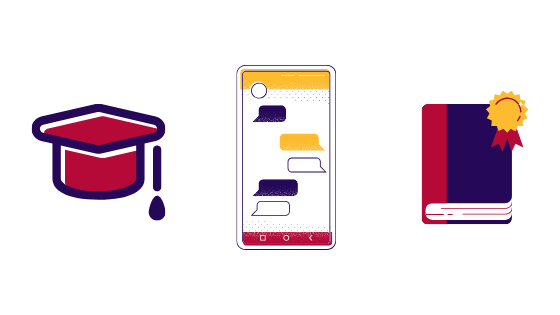 Erie House Expanded Learning Programs (ELP) Connect Families to Educational Activities and Critical Resources
In Erie House Expanded Learning Programs (ELP), students aged 5 through 18 have access to after-school and out-of-school activities and clubs designed to support academic, socio-emotional, and physical growth.
Students in grades 1-3 attend our READS program in Little Village to work with a tutor and improve reading comprehension, decoding skills, digital literacy, reading fluency, and enjoyment of reading.
In our Illinois ExceleRate Gold Circle of Quality rated School Age program, students can get hands-on help with reading and homework, sports and open gym, STEM activities, and more.
And in our Youth Options Unlimited (YOU) program, we work alongside students to equip them with the tools needed to thrive as they learn, grow and develop resilience—all in a safe, supportive environment. This includes Tutoring to Educate for Aims and Motivation (TEAM). High school students in TEAM receive weekly one-on-one mentoring, job shadowing opportunities, and assistance with college and financial add applications.
Now that schools and Erie House are closed due to the COVID-19 pandemic, our work in these programs has evolved based on our students' and their families' needs.
Connecting Families with Resources
Our team is conscious of the fact that a lot of government programs are not accessible to undocumented folks, those who were previously working for cash, or gig workers. So, Erie House's READS, School Age and YOU teams have reached out to every single family involved in the programs and have worked to connect those who need it to free internet, rental assistance, Chicago Public Schools food applications, Erie House support for applying for LINK, SNAP, and other public benefits and immigration support, and our Community Relief Fund.
"We work with undocumented families, so we knew when this happened they would be hit hard. Every day we talk to these families and we hear the desperation, and we wonder what do we do and how do we do it?"

Wendy Viteri, Youth and Family Support Coordinator
Viteri has worked closely with families, walking them step-by-step through applications for the assistance they need. "I love what I do. It's stressful but at the end of the day it's worth it," she said.
Joel Rosales, Assistant Director of School Age, has also been hard at work with his team connecting families with the resources they need, even going the extra mile to pick up food from pantries and delivering it personally to those who are unable to leave their homes.
Staying in Touch with Students and Sharing Activities
In addition to contacting families about their general needs, Viteri is also working closely with 8th graders in her program to help them navigate Chicago's competitive high school application system and apply for high schools for the next school year. The READS team is helping them get connected to their classrooms and teachers at school and making sure they have the tools they need to work on their class assignments while at home.
TEAM mentors are staying in touch with their mentees, providing homework help and checking in to make sure their families' needs are being met. School Age team members are also available to provide homework help and tutoring for students in the program.
Because many students' parents are working full time plus extra hours and their smart device is the only way their family can access online resources, we're also working to get families equipped with tablets and providing an hour of tutoring per day.
"People are grateful someone is checking in on them because they feel vulnerable and isolated. It's helpful for all of us to know that someone cares and is checking in. We're building networks so they know if something happens, they have someone to reach out to."

Rachel Serra, Literacy Programs Manager
Some parents have told our team that they were interested in digital books that can hold their child's attention, as well as activities that keep them off of screens for some of the day. So, the READS team has begun a weekly newsletter to share digital books and offline activities. One example of these activities is creating a figure out of tin foil. For older students, we include instructions on how they can use those tin figures to create a stop-motion movie.
We're also sharing health tips for participants in these newsletters, like how to make a mask at home using a bandana or an old t-shirt, or making your own disinfectant spray with water and vinegar.
For continued socio-emotional support, Dr. Elizabeth Yelen and interns from the Chicago School of Professional Psychology continue to have appointments via phone or video for our students.
Keep following our blog or sign up for our newsletter at the bottom of this page to stay in the know about how the Erie House team is going above and beyond to support our community during the COVID-19 crisis.
You can also learn more about our response to the coronavirus pandemic and access additional resources at eriehouse.org/covid19.