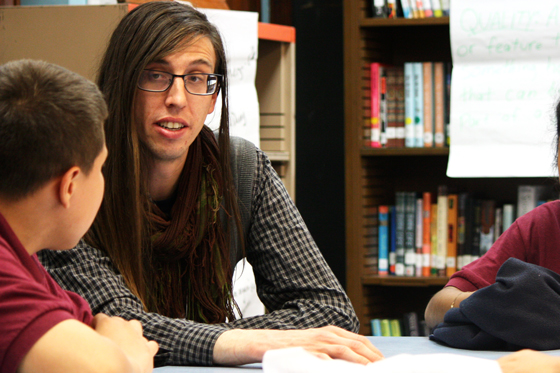 Erie House Mentoring Program Will Expand into South Lawndale/Little Village
A grant from the City of Chicago's Department of Family and Support Services will enable Erie Neighborhood House to expand its youth mentoring program currently based in West Town into the South Lawndale/Little Village community.
"We're excited about the opportunity to apply what we've learned through our TEAM mentoring initiative to a new context and community," says Erie House executive director Kirstin Chernawsky, who explains that staff from the agency's Proyecto Cuídate program will oversee the new effort at Daniel J. Corkery School.
"Proyecto Cuídate has been doing remarkable work with students in the community," she adds, "and this grant will expand our capacity to support their growth and development."
Last fall Mayor Rahm Emanuel announced plans to invest $36 million in public and private funds over a 3-year period in order to increase availability of existing mentoring programs across the city. The Mayoral Youth Mentoring Initiative will specifically address the needs of at-risk boys and young men in one of 22 target areas in the city, seeking to improve academic outcomes, reduce involvement in the criminal justice system and provide greater access to employment opportunities.
The mayor's program will pave the way for Erie House to offer mentoring services at Corkery School, where Proyecto Cuídate already hosts an after-school youth leadership program in addition to providing training and support to teachers seeking to implement restorative practices in the classroom.
"I'm excited about increasing the diversity of experiences offered to our students," says Erie House restorative justice facilitator Solomon Martinez. He will work with colleagues in the Proyecto Cuídate program as well as the Expanded Learning Programs for Children and Youth (ELP) at Erie House to get the initiative up and running at Corkery School.
Martinez says he has observed a dominant narrative in society that all too often sets students up for failure. "My hope is to develop positive relationships and challenge that narrative with one that affirms the worth and potential of each student."
Students enrolled in the program will meet with their mentors once a week throughout the school year in a student-driven, strength-based approach. They will also participate in group field trips and other activities to foster growth and development.
Erie House launched its TEAM mentoring initiative in West Town in 1984; over the past 19 years, it has achieved a 100% high school graduation rate and sent 98% of those graduates on to a 4-year college or university. The program provides students with academic support but also helps the at-risk youth develop resilience and life skills vital to success beyond the classroom.
The hope is to replicate that success at Corkery School. Martinez indicates he has already recruited 15 students to participate in the program, or roughly half of the 28 spots available spots, and is confident Erie House will reach its goal by summer. Next up is enlisting the support of mentors.
"We're looking for a diverse group of mentors who reflect the diversity of our mentees," says Martinez, who adds that while the program is tailored to male students he is recruiting mentors without regard for gender. "I just want them to have a passion for youth power and be able to see our students as a positive force."
The program will kick off with a cookout for students, families and mentors in July. Interested mentors can visit www.eriehouse.org/PCYouthMentoring or call (773) 542-7617 for more information.