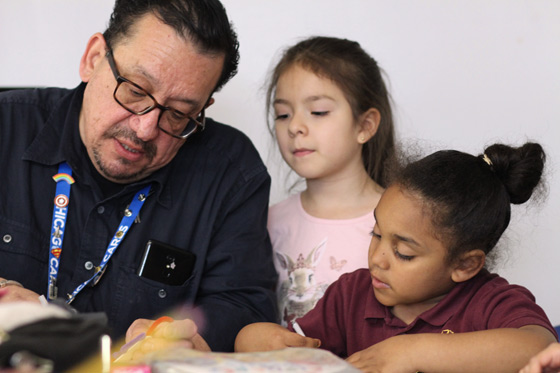 Erie House Program Reaches for New Heights at Jose De Diego Community Academy
You have to climb 3 flights of stairs to reach the Erie Neighborhood House School-Age Program site at De Diego Community Academy.
It's a fact nearly all of the children note when talking about their experiences in the program. But the panoramic view from the top floor—which includes Chicago's downtown skyline, the United Center and Illinois Medical District, Humboldt Park and even a rooftop at Wrigley-esque experience overlooking the baseball diamond at Roberto Clemente Community Academy—is well worth the effort.
And while it's easy to get distracted by these views, what's happening inside the classrooms is an impressive sight in its own right.
Today a group of students sit at a table with school-age educator Alberto Prieto—Mr. A, as he is known in the program—who is assisting them with their math homework. They're one-third of the way through a unit on whole numbers and fractions, and today's assignment has them plotting fractions on number lines spanning from 0 to 1.
"When you do your homework here you don't have to do it by yourself," says Tia, a third grade student who has just wrapped up her fractions assignment, when asked why she likes coming to the School-Age Program. "You have teachers who can help you."
"Having the ability to help with homework is a big asset," says De Diego site director Veronica Seda. She explains that education levels, language barriers and work schedules all make it hard for many families to provide sufficient homework help to their children.
The role Erie House school-age educators like Mr. A play in these instances is vital. And it is yielding some significant gains: Last year nearly three-fourths of students in the program either maintained a GPA above 3.0 or improved their GPA during the course of the year.
"When you do your homework here you don't have to do it by yourself. You have teachers who can help you."

– Tia, 3rd Grade Student
It isn't all work and no play, though.
"I like coming here because of choice time," says Bella, a 6-year-old who paints with watercolors alongside her twin sister, Amaya. Both completed their homework earlier and are now working on a Mother's Day-themed art project.
The choice-based curriculum Bella is referring to is designed to engage children in a variety of learning opportunities. They focus on academics, for sure, but the program also addresses social and emotional learning and provides a safe, supportive environment in which each child can reach their potential and develop resiliency along the way.
This sort of holistic approach has earned the program the ExceleRate Illinois Gold Circle of Quality multiple times, including earlier this year.
In addition to homework time, today some of the younger students have set up a restaurant using play food and kitchenware in the dramatic play area. They take orders from their classmates and work steadily in the kitchen to prepare and plate the meals.
In an adjacent classroom, school-age educator Sam Rodriguez leads a group of older students in an art project using shaving cream and food coloring mixed with a small amount of glue to help the foam paint adhere to their canvas.
Children also enjoy access to an outdoor playground for active play and can participate in a variety of clubs, including a summer cooking club through the Super H initiative.
The De Diego program moved from Erie Elementary Charter School (EECS) to its new home just prior to this school year. It's one of 3 locations where the Erie House School-Age Program operates; the other two are at the agency's West Town sites on W. Erie St. and W. Superior St. All told the program has capacity for 200 children, but the space De Diego has provided leaves some room to expand.
Seda grew up coming to Erie House and has now worked in the School-Age Program for a decade, having served as site director EECS prior to this year. It's safe to say she sees herself in many of these young people, and she has firsthand knowledge of the role Erie House can play for each one.
"If it wasn't for Erie House, I wouldn't be where I am today," she says, describing the care and support she received. That same environment exists today. "For these kids, it's a second home."
To demonstrate this impact, she shows a photo she recently snapped on her phone, taken at a celebration EECS hosted for 8th grade students who will be moving on to high school this spring.
She points out that each one of the students pictured has spent time in the Erie House School-Age Program. "It was their idea," says Seda. "They wanted to gather together and take a group picture as kids who had come up through the program. That was pretty awesome to see."
This is a common theme that runs throughout the program. Its team of educators demonstrates a clear passion for the children, as well as both intuition and knowledge that lend themselves well to instruction and care.
"That's what Erie House is all about. The little things we do—teaching, leading activities, going on field trips our parents may not be able to otherwise afford—all have an impact on these children."