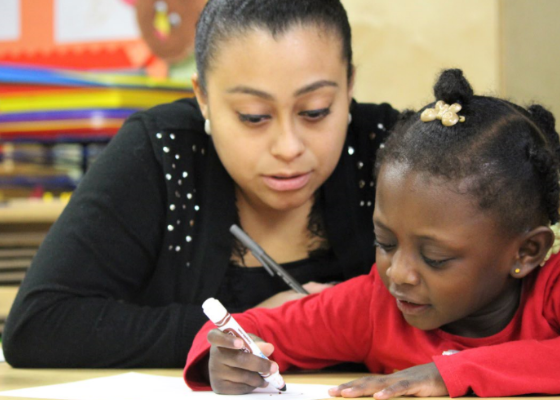 Erie House Receives $150,000 IMC Charitable Foundation Grant
A $150,000 grant from the IMC Charitable Foundation will help strengthen the Early Childhood Education program at Erie Neighborhood House.
IMC, an international technology-driven trading firm, provides grants to organizations in underserved communities to help children achieve their fullest potential through its Charitable Foundation Education Program.
The grant will be disbursed over the course of two years, helping Erie House continue delivering high-quality, holistic care and instruction to 175 children.
"We're proud of the work our teachers and support staff do on a daily basis and are grateful for the support IMC Charitable Foundation is providing," says Erie House executive director Kirstin Chernawsky. "This is a great investment in the lives of our children."
The program is accredited by the National Association for the Education of Young Children (NAEYC) and strives to work with families to help children build a strong foundation for learning during their formative early years.
"One of the core ideals of our program is that we see children as whole individuals, and this includes their families," says Matilde Romero, assistant director of Child Care at Erie House.
She explains that in addition to placing qualified teachers and assistants in each classroom, Erie House encourages child development with a strong team of providers, including a social worker, clinical psychologist, family coordinator, caseworkers and team of graduate level interns to deliver play therapy and other supportive services.
"Children with socio-emotional needs have a way to learn how to cope and express their needs using play and skillful, intentional interactions," says Romero, who taught at Erie House for more than a decade before entering her current role as assistant director of the program.
The NAEYC-accredited program at Erie House runs from 7:30 am to 5:30 pm Monday through Friday, providing children ages 2 through 5 with quality care and instruction. It is available to qualifying families through federal Head Start, Early Head Start and state Child Care Assistance Program (CCAP) funding, enabling parents to work and provide for their families while their kids learn in a safe, nurturing environment.
This robust investment is paying off. Last year, 91% of all 5-year-olds in the program were assessed as "kindergarten ready" according to widely held expectations in math, literacy, language, physical socio-emotional and cognitive development.
For more information on the Early Childhood Education program at Erie House, please visit www.eriehouse.org or call (312) 432-2218.