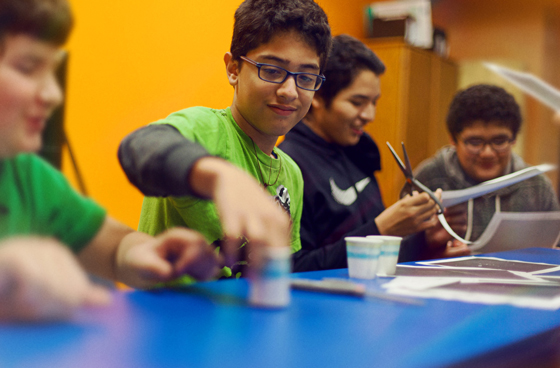 Erie House Receives $2,000 Grant from MAXIMUS Foundation
Erie Neighborhood House received a grant from the MAXIMUS Foundation in the amount of $2,000 to support STEM-focused workshops and activities in its Expanded Learning Programs for Children and Youth (ELP).
"It's an honor to provide Erie Neighborhood House with a MAXIMUS Foundation grant that will enable such a deserving organization to continue its spectacular work improving health, child and community development, and helping underserved populations in the local community," said John Boyer, MAXIMUS Foundation Chairman.
The MAXIMUS Foundation is the philanthropic arm of MAXIMUS, a leading operator of government health and human services programs that help serve citizens with compassion and efficacy.
"Erie House has earned this well-deserved grant by providing innovative solutions that empower families and individuals—values that we hold dear at the MAXIMUS Foundation," he added. "The Foundation and I send our warmest congratulations to Erie House."
The grant will serve to further strengthen the emphasis on STEM (Science, Technology, Engineering, Mathematics) education at Erie House.
ELP currently offers an after-school science club in collaboration with After School Matters as well as STEM workshops throughout the year. Its flagship youth mentoring program, TEAM, recruited 25 mentors with a background in STEM in 2015. Last year, the program witnessed 46 percent of graduating seniors select a STEM-related major in college.
"We are extremely grateful for the opportunities the MAXIMUS Foundation is creating for our youth," said Erie House executive director Kirstin Chernawsky. "STEM education lays a great foundation for our students to pursue a variety of different career paths. Because these jobs are in high demand, our youth will be better positioned to succeed as a result of their participation at Erie House."
Erie House was among 11 organizations in the state of Illinois who received a MAXIMUS Foundation grant this spring.
About MAXIMUS
Since 1975, MAXIMUS has operated under its founding mission of Helping Government Serve the People®, enabling citizens around the globe to successfully engage with their governments at all levels and across a variety of health and human services programs. MAXIMUS delivers innovative business process management and technology solutions that contribute to improved outcomes for citizens and higher levels of productivity, accuracy, accountability and efficiency of government-sponsored programs. For more information, visit www.maximus.com.
About the MAXIMUS Foundation
As the philanthropic arm of MAXIMUS, the Foundation extends the mission of the Company by identifying and awarding grants to partners with specialized expertise to deliver results within the same populations and communities served by the public programs the Company operates. The MAXIMUS Foundation is completely funded by MAXIMUS and its employees, and provides grants to local community organizations with programs and projects in the areas of child and youth development, health and community development.