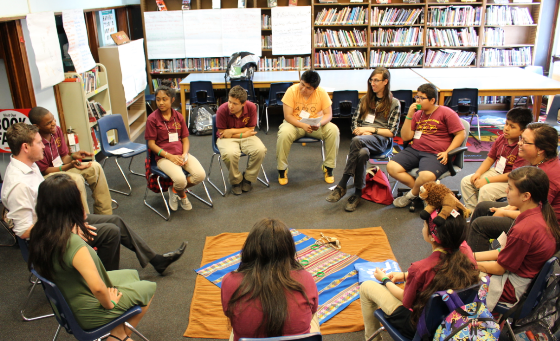 Erie House Receives $50,000 Healthy Communities Foundation Grant
Healthy Communities Foundation (HCF) has provided Erie Neighborhood House with a $50,000 grant to support general operations of its Proyecto Cuídate program and further its efforts to foster wellbeing in the community.
"We're grateful for this generous support from Healthy Communities Foundation," says Erie House executive director Kirstin Chernawsky. "Our mission is to work toward a just, inclusive society, and we don't arrive at this outcome until all of our neighbors have access to the resources they need to achieve wellness in every aspect of life."
Formerly known as The Arthur Foundation, HCF aims to support organizations committed to improving the health and well-being of individuals, families and communities in Berwyn and its surrounding areas.
HCF disbursed more than $7 million last year to improve equity and access to holistic care and services, focusing on addressing the needs of residents who are most socially and economically vulnerable.
Situated in Chicago's South Lawndale/Little Village community, Proyecto Cuídate serves residents of Chicago, Berwyn and Cicero. It provides counseling services and case management, offers classes aimed at violence prevention and women's empowerment, and creates opportunities for local students and teachers to participate in restorative justice practices, including peace circles. As of last summer, the program now also coordinates a youth mentoring initiative.
Rosa Sanchez, program manager for Proyecto Cuídate, is excited about the increased capacity the HCF grant will create for the program.
"It's important to have qualified, professional staff to support people in the community and provide them with the resources they need," says Sanchez. She notes that the grant will provide training and professional development opportunities to ensure program staff are equipped to provide high-quality, trauma-informed care.
Proyecto Cuídate has worked from its inception to address patterns of violence at home and in the community. To achieve this, its staff invests specifically in programming to support women and children and give them a stronger voice.
"Our goal is for women and girls to have self-confidence and make sure they have the tools and support they need to improve their well-being," says Sanchez.
The program also works with men as well as the whole family unit, striving to model positive, healthy communication styles and disciplinary actions that reflect a restorative justice model rather than a punitive one.
For more information on Erie House and the Proyecto Cuídate program, visit www.eriehouse.org.