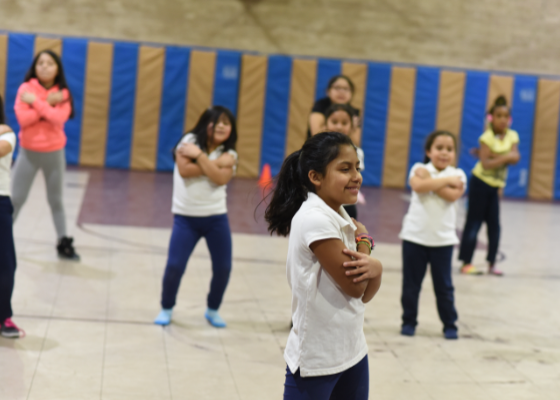 Erie House School-Age Kids Shift Gears for the Summer
School might be out for summer, but learning is still in session for approximately 200 children enrolled in the School-Age Program at Erie Neighborhood House.
Walk into Templeton Hall, the space the older students call home at Erie House's main West Town site, following lunch and you won't find kids running around and making lots of noise. Instead, you'll see them quietly sitting in small clusters at tables or on floor pillows, reading books or writing in journals.
Granted, this tranquility doesn't last the whole day long—if it did, you might be worried, and justifiably so—but it is a deliberate pause from the summer frenzy to reinforce language and literacy concepts.
A strong team of Erie House School-Age educators also engage the students in math and science activities, all of which are aimed at helping with learning retention over the summer months.
"With the younger kids it's an easier sell because they're excited to do anything," says Aracelis Perez, assistant director of the School-Age Program. "With the older kids we kind of have to prove ourselves to them. But the staff do present the lessons in a way that doesn't feel like they're in school or that they're doing science or math from a textbook. Once they're in it, there's no complaining."
Perez explains that a primary way to engage kids is to offer a variety of clubs that reinforce educational concepts while appealing to their interests and giving them opportunities to grow.
One of this summer's clubs, for example, embarks upon the challenge of solving a Rubix cube. Another will connect human biology with the arts.
Still another club is choreographing several dances to showcase in front of classmates and peers later this summer. "I feel nervous," one of the girls, Leslie, says when asked how she felt about the fast-approaching performance. But the 10-year-old's nervous energy is clearly mixed with excitement.
Smiling, she adds, "We have so much fun!"
"There's about 10 of us in the club," explains Natalie, age 12. Like Leslie, she is a student at James Otis Elementary School, situated just a short walk from Erie House in Chicago's West Town neighborhood.
She explains that the club formed toward the end of the school year, and at first had attempted to pull together a dance to the Reggaeton classic Gasolina. "That was too fast. We chose a song by Cardi B because that was easier for us to practice."
During the summer months the School-Age Program, which just last year was awarded the Illinois ExceleRate Gold Circle of Quality, runs on a full-day schedule from 7:30 am to 5:30 pm. Two meals are served family-style and the children have ample opportunities to move and play.
When they're not engaged in a club meeting, students choose from a variety of activities available, including swimming at the local Chicago Park District pool, playing foosball and creating art projects.
"I like to go on the computers," says Brandon, a 9-year-old at Pritzker Elementary, who like most kids his age enjoys a little screen time.
In addition to clubs and choice time, students also enjoy field trips on Wednesdays and Fridays to various sites around the city and suburbs. This year's itinerary features destinations such as the forest preserve, the beach, Pickwick Theatre (The Incredibles 2 is showing) and Gizmo's Fun Factory.
And, of course, there is the much anticipated camping trip that will take students for 3 nights and 4 days to a rustic camp in rural Indiana.
"Camp is the highlight of the summer," says Perez. "It's in late August, so throughout the summer the kids know it's coming up." At camp Perez and her colleagues in the School-Age Program plan a variety of activities and wear more than a few hats as they provide round-the-clock supervision to more than 100 children. "For those four days we become mom, dad, friend, mentor…tooth fairy, even," says Perez.
She proceeds to tell a story about last year's camp experience in which a child lost a tooth, forcing staff to scrounge up change and wait until all of the kids in her cabin were asleep to tiptoe in so they could swap out the tooth beneath her pillow. "She still believed in the tooth fairy, and we weren't going to ruin it for her."
The foundation for those various roles staff play in the lives of kids in the program is built throughout the year at Erie House, and the summer schedule helps shore up that foundation.
"Oooh, that's a hard one!" 9-year-old Yesenia says in response to a question about her favorite thing about the summer program. "I like so many things."
"During the school year it's more of a routine—the kids come after school, they eat their snack, they do homework, and we only have them for 2 to 3 hours a day. We don't get to connect with them as much as we would want," explains Perez. "In the summer, we have them all day. It's more of a relaxed environment. The staff are able to talk to the kids, sit down and have a conversation with them about the day or what they're going to do on the weekend."
This change of pace appeals to Yesenia, a fourth grader at Talcott Elementary. "Oooh, that's a hard one!" the 9-year-old says in response to a question about her favorite thing about the summer program. "I like so many things."
She starts by listing off the perks, from field trips to clubs she has participated in (for the record, cooking club is her favorite: "Every time we think something is disgusting it turns out to be good") to time spent on the computers. After thinking a bit longer she sums it up by saying, "I'm so bored at home, but every single day at Erie House I get to play with my friends."
Learning and having fun with friends—sounds like the perfect the summer plan.