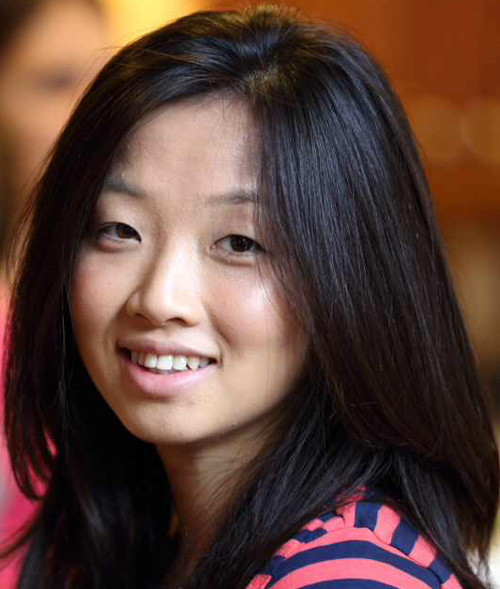 Erie House Will Honor Rebecca Shi with Future of Promise Advocacy Award
Rebecca Shi, executive director of the Illinois Business Immigration Coalition (IBIC), will receive the Advocacy Award at the Erie Neighborhood House Future of Promise awards dinner on Thursday, March 16.
Shi has served at the helm of the statewide coalition of businesses and business associations committed to immigration reform since 2014, having previously worked as the Director of Organizing for the Illinois Coalition for Immigrant and Refugee Rights where she led the successful passage of the Temporary Driver's Licenses legislation to license and ensure nearly 450,000 undocumented immigrants in Illinois, making the roads safer for all.
At IBIC she works directly with a steering committee of 79 Illinois based CEOs, business associations, University presidents and civic leaders to advocate for federal comprehensive immigration reform and local pro business pro immigrant legislations including continuing Illinois's All Kids program to provide health care for undocumented children.
IBIC has been extraordinarily effective in moving the politics of Illinois, winning public bipartisan support from the majority of Illinois's Congressional delegation for commonsense immigration reform.
Recently, IBIC led a coalition of 127 CEOs from across the country to support to the BRIDGE Act, a bill introduced by U.S. Senators Dick Durbin (D-Ill.) and Lindsey Graham (R-SC) to protect and support undocumented youth currently enrolled in the federal Deferred Action for Childhood Arrivals (DACA) program.
"Our primary goal is to achieve common sense, comprehensive immigration reform," says Shi, "but it's equally important to see progress on smaller issues that are part of the bigger picture. Those results and victories energize our members."
When asked about IBIC's commitment to working for immigration reform, Shi is quick to address the moral aspect. "The CEOs and business leaders we work with don't look at immigrants as merely employees," explains Shi. "They view them as family."
But Shi also contends that there are clear and obvious economic reasons for the advocacy efforts her coalition puts forth. "The business sector in Illinois relies on immigrants for productivity and to create additional jobs and revenue," she says, citing the essential role immigrants play in sectors ranging from agriculture to restaurants and hospitality to technology. In addition, Shi points out that immigrants represent an important segment of the state's consumer base as well.
For Shi, the issue of immigration hits close to home. "My mother was undocumented and lived facing the threat of deportation for 19 years," says Shi, who herself was born in Beijing and arrived in the U.S. at age 10. She credits Rep. Luis Gutierrez (D-Ill.) with intervening to ensure her mother would not be deported. "We had a really good outcome," she adds, acknowledging that millions of undocumented immigrants have not been so fortunate. "That's why I do what I do."
"The Illinois Business Immigration Coalition is an indispensable partner in our work for immigration reform," says Erie House executive director Kirstin Chernawsky. "Rebecca's leadership and vision in these efforts have been outstanding, and we are excited to honor her with our Advocacy Award on March 16."
Rebecca's organizing in Chicago's Chinatown community led to a new library, new field house, new district and the first Asian American representative in Illinois legislature. A graduate of the University of Chicago, Rebecca was named to "20 in their 20s" by Crain's Chicago Business.
Shi will be recognized at Chicago's Radisson Blu Aqua alongside fellow honorees John De Carrier, Principal of MYD Holdings (Champion of Change Award); and Blue Cross and Blue Shield of Illinois (Corporate Impact Award), accepted by Clarita Santos, Senior Director, Community Health Initiatives. The event is chaired by Wintrust Financial Corporation and will include opening remarks from President & CEO Ed Wehmer.
For more information, please call PJH & Associates at (312) 553-2000 or visit www.eriehouse.org/futureofpromise.