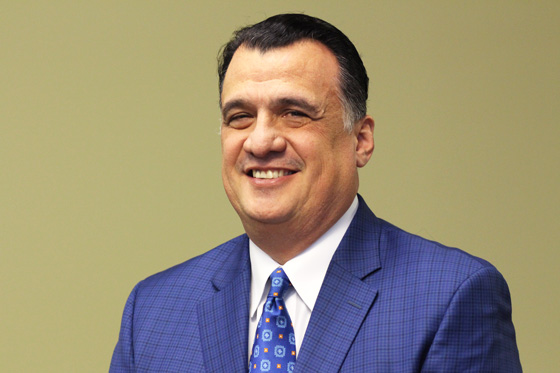 Faithful Erie House Supporter John De Carrier to Receive Champion of Change Award
On March 16, restaurant owner and entrepreneur John De Carrier will accept the Champion of Change Award at the annual Future of Promise dinner to benefit programs at Erie Neighborhood House.
De Carrier's roots at Erie House run deep. "I went to Erie House as a kid," he says, reminiscing about his childhood in Chicago's West Town neighborhood. "I was born here in Chicago but lived in Mexico for five years because my mom was a single parent. When we came back, we landed right down the street from Erie House." His family later moved away from Erie House, but the role the organization played in his family's life and in the lives of other families in the community made a lasting impression.
As an adult, De Carrier has enjoyed a successful career with McDonald's. He began as a restaurant crew member in high school and worked his way up the ranks, becoming a store general manager before transitioning into a corporate role with the company.
It was his leadership role with McDonald's that reconnected him with the organization of his youth. While president of the local chapter of the McDonald's Hispanic Employee Network, he reached out to then Erie House executive director Esther Nieves to explore possible partnerships for volunteer opportunities. Shortly thereafter, in 1999, De Carrier joined the board of directors.
Through McDonald's De Carrier also met Carmen Solano, a fellow Hispanic executive in the company; the two would fall in love, get married, and eventually leave the corporate side of the company to become owner/operators of a couple franchises in the Milwaukee area. Together he and Carmen have accumulated 70 years at the company, and they wouldn't have it any other way. "We're really proud of the work that we do," he says.
Today he oversees MYD Holdings LLC, which operates five restaurants at O'Hare International Airport and employs over 300 individuals. "We feel like we're a big family," says De Carrier.
De Carrier's success has enabled him to give back to the community, and Erie House has long been one of the beneficiaries. His involvement over the past two decades is highlighted by more than 15 years on the board of directors—including three years as board president—as well as time and energy devoted to volunteering as a youth mentor. De Carrier has also helped out with numerous Erie House fundraisers and events, including the Holidays with Heart gift drive for families in need.
"Erie House is a wonderful agency that does amazing work—whether it's immigration, workforce development or youth mentorships," says De Carrier. "Their ambition and drive to work with the Latino community is unmatched."
In addition, he and Carmen have provided college scholarship assistance to students in the TEAM youth mentoring program at Erie House through their family foundation, the Mia De Carrier Charitable Trust, named for their daughter.
"When we have a scholarship for an individual and we're touching base with them, you just see them blossom," explains De Carrier, who says he hopes to be able to provide even more scholarship assistance moving forward. "We're able to help them financially but also to mentor them and guide them."
Erie House executive director Kirstin Chernawsky says De Carrier was a clear, obvious choice for this award. "John has been a tremendous supporter of our mission throughout the years," she says. "We're proud of his accomplishments as someone who grew up coming to Erie House and grateful for the ways he is paying it forward for a new generation of Erie House participants."
De Carrier's award will be presented by David Rambhajan, principal for Industria Construction. He will be honored alongside Corporate Impact Award recipient BlueCross BlueShield Illinois (accepted by Clarita Santos), and Advocacy Award recipient Rebecca Shi, executive director of Illinois Business Immigrant Coalition.
The 2017 Future of Promise awards dinner is chaired by Wintrust Financial Corporation and will include remarks by CEO Ed Wehmer. Scheduled for 5:30 pm on Thursday, March 16, at the Radisson Blu Aqua, the dinner will benefit the Erie House Expanded Learning Programs for Children and Youth. For more information, please visit www.eriehouse.org/futureofpromise.