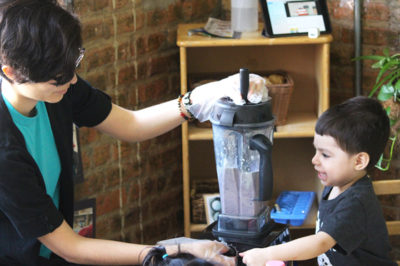 From the Test Kitchen into Everyday Life
A pop-up test kitchen has opened in the Pine Tree classroom at Erie Neighborhood House. Victoria Parra, an intern with the agency's Super H initiative, has taken on the role of head chef. She is seated at a table with prepped ingredients before her and an eager group of 2- and 3-year-old sous chefs gathered around.
Today they are making a fruit and vegetable smoothie with bananas, blueberries and fresh spinach (the latter two being superfoods), milk and oats (for extra fiber, iron and protein); a second smoothie swaps out milk for a soy alternative to make accommodations for a lactose sensitivity in the classroom.
Parra seeks to involve each of the 2- and 3-year-olds in the endeavor, inviting them to add ingredients as they follow the smoothie recipe. Like most things that take place in an early childhood education setting, it's a hands-on activity. The children feel the texture of oats, squeeze the blueberries and break some of the spinach leaves in half before dropping them into the blender.
And, of course, there is the distinguished honor of pressing the ON button on the blender. Parra makes sure each child who wants to gets this opportunity (there's a safety switch so the blender won't operate without a lid). Watching their reactions to the blender's whirring and the sight of the ingredients getting whipped around is worth, well, far more than your typical 5-dollar blended drink at the local juice bar.
In case you've never spent time with a 2-year-old, toddlers can take things from a 1 to a 13 pretty quickly, so keeping tabs on the blender speed/power becomes a full-time job for Parra. "We do it slowly at first," explains Parra. "Despacito. Then we do it more rápido."
This is the youngest end of the spectrum for Super H, an initiative of the Health & Leadership Program at Erie House, which reaches children and youth ages 2 to 18. It can be a challenge to keep children at this age engaged, so program leadership has had to tweak lesson plans here and there to meet the needs of individual students and classrooms. In fact, Super H activities for the preschool crowd are so tailored that the junior version carries its own moniker: Super H-itos.
"My favorite thing about Super H-itos is all the fun ways healthy eating can be incorporated into a child's day," says Eleni Kaldis, adding that the program's lesson plans incorporate picture books, songs, crafts and movement activities that all reinforce health and wellness.
Kaldis is the Health & Leadership Program coordinator and part of her role includes overseeing the Super H initiative at Erie House. She credits the program's interns with setting the stage for kids to get on board with recipes that are often new, or at least healthy twists on foods that are more familiar.
"My favorite thing about Super H-itos is all the fun ways healthy eating can be incorporated into a child's day."

– Eleni Kaldis, Health & Leadership Program Coordinator
"Children's willingness to learn grows significantly as they learn to trust the intern in their classroom," says Kaldis. Sometimes it takes a while for that trust to develop, she says, but "after a short time, they warm up to our interns and are glued to the hip. They pay more attention when activities are happening and seem more open to give things a try."
The interns also implement a "two-bite club" rule that asks children to take at least two big bites of a new item before passing judgement on it. This approach might seem like a pipedream, but it works. "With a little push, we can get nearly all our kids to take a bite," says Kaldis. "Often they are surprised that they like something they thought they wouldn't!"
When she's not concocting healthy snacks or leading movement activities with children in the Pine Tree classroom, Parra is an educator in the School-Age Program at Erie House.
"The thing I enjoy the most is seeing the spectrum of development," she says, pointing out that the Super H curriculum appeals to the multiple intelligences. Some children might not have yet developed verbal skills but are quite adept at gross motor activities, for example. "Some of the children seem like they can run forever," she says.
Parra also appreciates the physical activity Super H incorporates. On this day volunteer coaches from local nonprofit organization Chicago Run guide the children through a set of activities; most other days the Super H interns take the lead.
"It's been cool to see how yoga translates in both (the school-age and preschool) settings," says Parra. "The balance aspect for the 2- and 3-year-olds is really interesting. When they finally achieve that balance, they get so excited."
Parra's fellow School-Age Program educator Carl Williams is also an intern with Super H, working a few doors down in the Maple Tree classroom. A majority of the other Super H interns are dually enrolled in college or graduate school, and they each bring diverse skills and experiences into the preschool classroom setting.
Super H receives the majority of its support from Blue Cross and Blue Shield's Healthy Families, Healthy Communities® initiative; Herbalife Nutrition Foundation; Red Nose Day/Comic Relief Fund of The Chicago Community Foundation; Tyson Foods Foundation; and Conagra Brands Foundation.
This sort of collective investment in health initiatives is important, particularly since a variety of factors cause obesity rates for Latinx children to be significantly higher (38.9% versus 28.5%) than those of children who are white.
Staff at Erie House have likewise observed how income levels and food scarcity can affect entire households in the Latinx community disproportionately, and they are working to equip local adults and families with knowledge, resources and access to affordable, healthy living through Comprando Rico y Sano, an initiative of UnidosUS and Walmart Foundation.
As the children try the smoothie they've just created, their reactions are mixed. Some smile, others seem less certain about the recipe (meanwhile all of the young taste testers have purple mustaches, a nod to the intense coloring the blueberries lend to the drink). A few of these students try to circle back to make the second, non-dairy smoothie—evidence that the process is just as important as the product.
What is clear is that the children are busy learning and adopting new foods into their palate, not to mention a deeper understanding of nutrition and how that can impact their health and well-being.
"This is a huge success," says Kaldis, "because if Super H-itos fosters that kind of environment, the content and skills will hopefully stick with these kids for years."