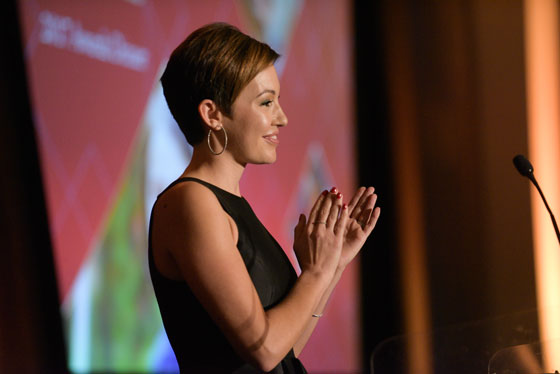 Future of Promise Dinner Benefits Erie House Children and Youth
Erie Neighborhood House hosted its 2017 Future of Promise awards dinner at Chicago's Radisson Blu Aqua on Thursday, March 16, honoring three community leaders while placing a spotlight on its Expanded Learning Programs for Children and Youth.
The event was chaired by Wintrust Financial Corporation and its President & CEO, Ed Wehmer. It raised more than a half million dollars for the second year in a row, delivering critical funds to a program that serves 250 at-risk students ages 5-18.
"We are so grateful for the generosity of the many partners and friends who support our mission and the work we are doing in the community," says executive director Kirstin Chernawsky. "This investment will have such an incredible impact on the lives of our youth, and we can't say thank you enough."
During the evening program Chernawsky reinforced the Expanded Learning Programs' effectiveness. Over the past 19 years, its TEAM mentoring initiative has achieved a 100% high school graduation rate—and 98% of those students go on to a 4-year college or university, many of them becoming the first in their families to attend college. The program also aims to promote socio-emotional wellbeing, including providing access to counseling and peer support groups.
"This is a program we should be supporting and expanding, not restricting," she told the audience after reminding them of the hardships the ongoing budget crisis in Illinois has caused, "which is why we need your help now more than ever."
One of the perennial highlights of the Future of Promise dinner is the speech given by an Erie House participant, and this year's speaker lived up to those lofty expectations. Brianna Vargas-Gonzalez, a high school senior who grew up at Erie House and is now carrying a 4.68 GPA at Whitney M. Young Magnet High School, shared her story with tremendous poise and confidence and was greeted with a standing ovation at the conclusion of her speech.
The daughter of parents who emigrated from Mexico, Brianna is an aspiring writer who has received acceptance letters from the University of Iowa, the University of Illinois at Urbana-Champaign, and St. Olaf College (she's still awaiting April responses from several other institutions, including Stanford, before making her decision as to where she'll attend this fall).
She reflected on the supportive community she found at Erie House, and how staff and volunteers instilled confidence and helped her discover her voice and capacity to lead others. "Thanks to Erie House, I have all the tools that I need to be successful," she told the audience, "as I continue to help others and work every day to make my parents—and my Erie family—proud."
Following a paddle raise auction that raised over $90,000 in night-of donations, the awards portion of the evening continued to deliver numerous feel good moments.
Industria Construction sole owner and president David Rambhajan presented his childhood friend, John De Carrier, with the Champion of Change Award. De Carrier grew up attending Erie House programs; today, he is principal of MYD Holdings and has enjoyed a successful career with the McDonald's Corporation. He has served on the Erie House board of directors—including a tenure as board president—and together with his wife, Carmen, has given back to the community in countless ways.
In addition, Illinois Business Immigration Coalition (IBIC) executive director Rebecca Shi received the Advocacy Award from former Erie House board member Jesse Ruiz, a partner at the law firm Drinker, Biddle & Reath and the president of the Chicago Park District Board of Commissioners. And Erie House alumnus, current mentor and Associate Board president Leo Martinez introduced Clarita Santos, Senior Director, Community Health Initiatives, with the Corporate Impact Award on behalf of Blue Cross and Blue Shield of Illinois.
Each of the honorees received a handmade rice-and-beans award, a unique mosaic comprised inspired by the creative artwork of Erie House children.
Just before the program ended, Erie House was also presented with an extraordinary surprise: A transformational grant worth $750,000 toward future capital projects, courtesy of North Avenue Day Nursery.
The historic nonprofit organization closed its doors in 2016 after more than 100 years of service to Chicago's Wicker Park neighborhood; proceeds from the sale of its property are now being reinvested in fellow community organizations like Erie House. North Avenue Day Nursery board president David May presented the check to Chernawksy and Erie House board president Patty Perez.
"We are overwhelmed by your generosity," Perez told May from the podium prior to closing out the evening's program. "This gift will impact the lives of families in our community for generations to come."
Next year's Future of Promise awards dinner will be chaired by ComEd and its President and CEO Anne Pramaggiore; the date and location are still to be announced. If you missed the Future of Promise awards dinner but would still like to make a contribution, please contact the Erie House development department at (312) 432-2236.