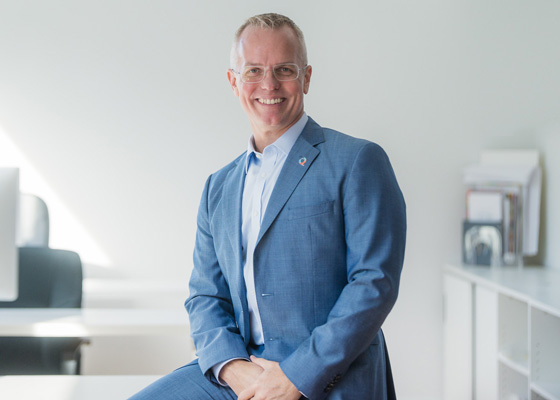 inQUEST Consulting Set to Receive Diversity & Inclusion Award at Future of Promise Dinner
When Scott Hoesman founded inQUEST Consulting in 2011, he wanted to build a model with a proactive approach to constructing more diverse, inclusive workplaces.
"A lot of the work in the field of diversity and inclusion is around awareness-raising activities," says Hoesman. "I believe we have to push people and help them to think, lead and interact inclusively, and that means giving them practical tools to drive more inclusion."
"We have to talk about these topics and clarify our values because employees are demanding an inclusive culture and want to know what the organization stands for," he adds. "At inQUEST, we're waking up every day asking how we can help our clients do that."
Hoesman will accept the Diversity & Inclusion Award on behalf of his inQUEST Consulting colleagues at the Erie Neighborhood House Future of Promise Awards Dinner on Thursday, March 14.
"We're humbled by the award," says Hoesman, who had the privilege of personally guiding Erie House through a process that culminated in the launch of a diversity and inclusion council at the agency in 2016-17. "We have been deeply impacted by our work with Erie House."
"Having conversations about immigration and today's socio-political climate really grounded me at a real human level," he says. "I can't thank [Erie House] enough for that."
Hoesman began his career in the financial services industry before taking on a succession of senior roles in diversity and inclusion consulting firms.
Over the past 8 years his team has grown into a global firm consisting of 10 core leaders who are able to address the complexity of issues around diversity and inclusion in the workplace. In addition, InQUEST has established a network of more than 75 trainers, consultants and subject matter experts to better meet the needs of its clients.
"One of the things we're really proud of is we're not all subject matter experts in the same areas," he explains. "Our skills are very nuanced, too, and our ability to specialize and have the team gain deeper subject area knowledge is important."
Danata Andrews, operations and marketing manager at inQUEST, speaks highly of the diverse culture she has encountered in her 2 years with the firm. "We bring our whole self—our experiences, our backgrounds—and that helps us think about how we can serve our clients better," says Andrews.
"Everything is really inclusive at inQUEST," she adds. "We don't just talk about it. We're constantly asking, 'How can we leverage [our diversity] both internally and externally?'"
But for Hoesman, it's not enough to fill his team with diverse gifts and experiences—as important as that is to the success of inQUEST. To be truly successful, the work must connect with something deep within. "We try to align folks in the firm with the things they're good at and that make their heart sing," says Hoesman. "When that happens, we do amazing client work."
Its work with Erie House reflects inQUEST's expanded commitment to the nonprofit sector. "We've built our brand and our reputation in the corporate space," says Hoesman. "This really represented a significant core value for inQUEST. We need to be supporting nonprofits who are mission-aligned in terms of diversity equity and inclusion."
"We try to align folks in the firm with the things they're good at and that make their heart sing. When that happens, we do amazing client work."

– Scott Hoesman, inQUEST Consulting Founder and CEO
As he reflects on inQUEST's work with Erie House, Hoesman points to the relationships built throughout the process. "We view success as generating, building and sustaining mutually trusting relationships with our clients," he says. "Our work isn't a one-size-fits-all, 'cookie cutter' solution. It was because we were having this partnership, dialogue and discussion that we were able to establish that level of trust. It takes more time, but it's worthwhile."
"We are so grateful for the many ways inQUEST has helped Erie House build a more inclusive culture for our staff and participants," says Erie House executive director Kirstin Chernawsky.
She asked inQUEST to provide an all-staff training aimed at cultivating a more inclusive culture in 2016, invited them back for the diversity & inclusion council launch, and, more recently, the firm conducted a training for members of the agency's board of directors at their annual retreat.
"Scott was in attendance at our awards dinner last year when we presented Allstate Insurance Company with our first ever Diversity & Inclusion Award, and we're overjoyed to be able to extend that honor to inQUEST Consulting this year," Chernawsky adds.
In addition to inQUEST, honorees at the event include VistaNational Insurance Group, LLC (Corporate Impact Award) and John Burns Construction Company (Community Investment Award).
This year, Erie House will also formalize an honor to recognize the strength, resilience and hope exhibited by one of its own community members. Pastora Ramirez and her son, Felix Garcia—residents of Chicago's Little Village/South Lawndale community who participate in the Proyecto Cuídate program at Erie House—will receive the inaugural Future of Promise Award.
The Future of Promise Awards Dinner is being chaired by Ronald G. Kaminski, chief executive officer of HBK Engineering, and will take place on Thursday, March 14, at Chicago's Radisson Blu Aqua (221 N Columbus Dr).
For tickets or information about becoming an event sponsor, please visit eriehouse.org/futureofpromise or call Rina Tsang, PJH & Associates, at (312) 553-2000.