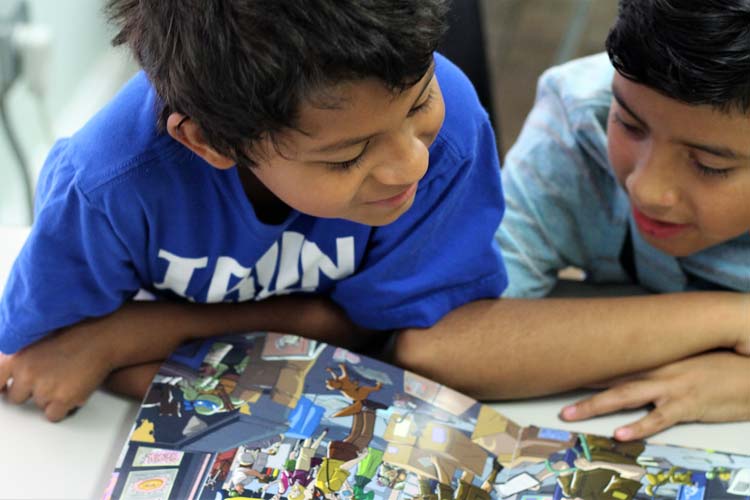 Learning Comes Full Circle for Little Village Volunteers
A small group of tweens and teens are making a big difference locally this summer. Three days a week, a handful of students visit Erie Neighborhood House in Chicago's South Lawndale/Little Village community to volunteer as tutors in the agency's READS program.
They gather on Tuesday mornings to check in with Callum Casey, a recent college graduate participating in Valparaiso (Ind.) University's CAPS Fellows Program at Erie House. He previews the day and week ahead (the program runs Tuesday through Thursday during the summer months) and helps the students set goals for their work with the younger students.
Each of the students is also participating in a youth leadership initiative run by Erie House's Proyecto Cuídate program in which they receive mentoring and other support for their journey into adolescence.
"I like that I have something to do with younger kids and that I'm helping my community," says Ray, a soon-to-be 8th grader at Corkery School.
Ray's younger sister is in the program, but she has also been able to connect with other READS students this summer. "Some of the kids are actually nice," she says with a smirk, just loud enough for her group of readers to hear.
They in turn giggle and protest that they are in fact all quite nice, thank you very much.
The reading intervention initiative, which emerged in 2013 thanks to a grant from the Chicago Tribune Charities, a McCormick Foundation fund, now reaches 50 students during the school year. Current funding partners include the McCormick Foundation, Dollar General Literacy Foundation and The John Buck Company Foundation.
Children in grades 1 through 3 with low reading scores are referred to Erie House from neighboring Epiphany Catholic School and Daniel J. Corkery School. By the time they reach 3rd grade, 9 out of 10 of these students will be reading at or above grade level, a testimony to the extra layers of instruction they receive in READS and their determination to succeed.
Erie House literacy coordinator Rachel Serra maintains that summer programming is critical to the program's success rate, and the role the volunteer tutors play is paramount.
"The reality is we would not be able to host the summer program without our student volunteers," she says. Securing adults to volunteer their time in the middle of the day three days a week proved difficult this summer, but the program hasn't missed a beat thanks to the students.
The volunteers spend a minimum of 40 minutes each day engaging their younger peers in reading activities. That, according to Serra, is vital to reading retention.
"Reading scores decline when students aren't engaged in literacy-specific learning over the summer months," says Serra, "but we see great gains at Erie House." She points out that even the most well-intentioned summer camp can miss the opportunity to support retention and growth by failing to include reading in its curriculum.
In the READS program, students build on what they've learned through reading to engage in project-based learning, including crafts, outdoor games and other activities. "I feel like we're able to combine reading and hands-on projects in a fun way," she says. "The kids love the projects we do, and I think they appreciate the connection we make with real-life experiences."
"I like that I have something to do with younger kids and that I'm helping my community."
– Ray, READS volunteer and 8th grader at Daniel J. Corkery School
All but one of this summer's tutors participated in READS when they were younger, and the full-circle impact they are making is not lost on them.
"I'm helping kids by reading with them," says Angel, a former READS student who will enter the 6th grade at Corkery School this fall. Two of Angel's sisters—he is the second oldest of five—are enrolled in the summer program, so he's able to keep an eye on them as tutor/big brother.
Eighth-grader Arieana enjoys playing this sort of dual role. "I like supporting them," she says, "and helping them believe in what they can do."
And younger students like 9-year-old Diana are taking notice. Her oldest brother, David, went through the READS program and has helped out as a volunteer tutor in the past. Michael, her middle brother, is a volunteer tutor this summer, and Diana has aspirations to follow in both their footsteps. "I want to help other kids when I'm bigger," she says. "I want to be a tutor, too."
In addition to reading with the kids, the tutors help set up activities, distribute lunches and ensure that students stay on-task throughout the day.
Serra says that the time the volunteers spend with Casey at the beginning and end of each week is important. "It helps them build skills and community with each other and be more thoughtful about the work they are doing this summer," she explains.
On this particular afternoon, the tutors are working with READS students to make Tibetan prayer flags. Earlier they had read through an overview of Tibetan history and culture, learning the significance of prayer flags in Buddhist practice.
Using brightly colored fabric squares, they now scrawl down messages and drawings conveying hope for peace and goodwill.
One of the students is making a flag adorned in rainbows to encourage her younger sister, who she explains was recently diagnosed with cancer.
Another designs a flag calling for care for the earth, drawing a peaceful stream with flowers and trees growing beside it.
Still another shows off a string of three flags—one aimed at reducing gun violence, another advocating for better sleep and a third calling for the rescue of Toys R Us—making a strong case for three tangible steps toward world peace.
But no matter how sacred or mundane the flags turn out, one thing is for certain: The activity engages each of the students in learning more about the world around them. And as they do that, they develop language and literacy skills that will promote learning, both this summer and beyond.