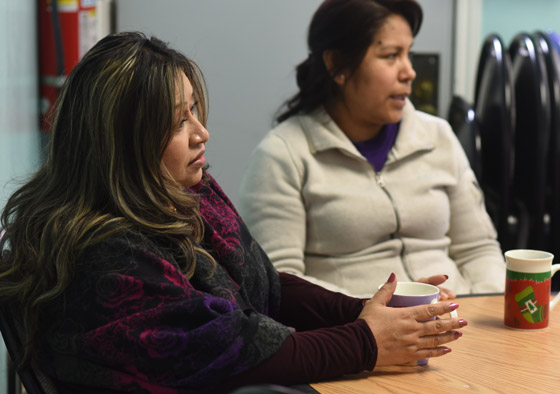 New Honor to be Introduced at Erie House Awards Dinner
A brand new honor will be introduced during the Erie Neighborhood House Future of Promise Awards Dinner on Thursday, March 14, at Chicago's Radisson Blu Aqua (221 N Columbus Dr).
The signature Future of Promise Award, underwritten by The Custom Companies, Inc., will be presented to Pastora (Pas) Ramirez and her son, Felix Garcia.
Their family lives in the Little Village neighborhood on the city's Southwest Side. Both are actively engaged in the Proyecto Cuídate program at Erie House, an initiative aimed at strengthening individuals and families and supporting greater well-being within the community. Proceeds from the dinner will benefit this extraordinary program.
Proyecto Cuídate employs two licensed clinicians who provide free, bilingual therapy to clients in the community who may not otherwise have access to this vital mental health resource. In addition, the program hosts parenting workshops, women's empowerment groups and group counseling.
It also works in the classroom setting to equip local teachers to implement restorative practices with their students and partners with Daniel J. Corkery School to host an after-school leadership initiative and a mentoring program for local youth.
Pas has participated in parenting workshops through Erie House, while Felix is active in Proyecto Cuídate's leadership and mentoring initiatives.
"Erie House is open to everyone," says Ramirez in her native Spanish. She has participated in several parenting workshops through Proyecto Cuídate and recognizes the value in creating this sort of affirming space. "I feel like it is very important for the community."
"Erie House is open to everyone. I feel like it is very important for the community."

– Pastora Ramirez, 2019 Future of Promise Award Honoree
She points out that these services at Erie House are also free, which means she and her family don't need to choose between other life needs and the socio-emotional support that is so vital to their overall well-being.
All too often, under-resourced communities like South Lawndale/Little Village exhibit a dearth of mental health providers, and access to free or affordable services—particularly when so many residents are either uninsured or underinsured—is even harder to come by.
Erie House wants to change that narrative.
"Proyecto Cuídate has helped Pas strengthen and enhance the growth and development of her children," says community support specialist Erika Flores. She leads some of the parenting workshops and other groups aimed at empowering others. "We have also helped Pas and her family gain access to other types of support and resources," she says.
One of her first steps has been to encourage Felix to participate in Erie House initiatives offered through its partnership with nearby Daniel J. Corkery School.
By all accounts, he is thriving in that space.
"We feel very fortunate to have Felix involved in programming with us," says Solomon Martinez. As community and youth program coordinator, he oversees the mentoring initiative as well as the after-school leadership program. "He is always present, friendly and makes an effort to welcome new folks into the spaces he shares, supporting our goal of an inclusive and welcoming environment for youth."
Prior to the award presentation, Erie House will debut a short film produced by Fig Media, Inc., that provides an overview of the Proyecto Cuídate program and highlights the Garcia-Ramirez family, after which the Pas and Felix will share some personal remarks.
And while this sort of spotlight on a program and one of its participants is no stranger to the Future of Promise event, formalizing an award to acknowledge and celebrate the impact individuals at Erie House make within their own families and in the broader community feels appropriate.
"We are proud to sponsor the Future of Promise Award because it speaks to the strength and resilience demonstrated by extraordinary individuals in our community," says Perry Mandera, founder and CEO of The Custom Companies, Inc.
"I was and always will be an Erie House kid," he adds. "Supporting organizations like Erie House is one of the ways we can pay it forward and invest in future opportunities for people to thrive in."
Pas and Felix will be joined on the awards stage by inQUEST Consulting (Diversity & Inclusion Award), accepted by inQUEST founder and CEO Scott Hoesman; VistaNational Insurance Group, LLC (Corporate Impact Award), presented by Peoples Energy president and CEO Charles Matthews to VistaNational principals Kahlil Hogan and Brian Walsh; and John Burns Construction Company (Community Investment Award), presented by Ameresco vice president Steve Taggart to JBCC CEO William O'Malley.
The Future of Promise Awards Dinner is being chaired by Ronald G. Kaminski, chief executive officer of HBK Engineering. For tickets or information about becoming an event sponsor, please visit eriehouse.org/futureofpromise or call Rina Tsang, PJH & Associates, at (312) 553-2000.