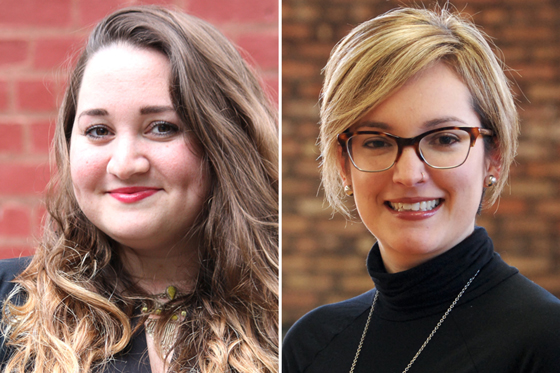 Paula King and Jane Lombardi Join HACE Nonprofit Leadership Cohort
Two Erie House staff members are among the 2017 cohort for the HACE Nonprofit Leadership Academy, a valuable professional development initiative hosted by the Hispanic Alliance for Career Enhancement (HACE).
Paula King, senior director of development and communications, and Jane Lombardi, director of citizenship & immigration services, received full scholarships to participate in the intensive learning program which aims to support and sustain the impact of Latino-serving nonprofit organizations through leadership development.
The HACE Nonprofit Leadership Academy utilizes a cohort-based model to nurture and develop leaders within Latino-serving organizations. In total the cohort will meet 8 times over a 3-month period, providing participants with the opportunity to engage in self-assessment and tap into resources such as individualized coaching and action planning.
"HACE does great work supporting career advancement in our community," says Erie House executive director Kirstin Chernawsky. "To see both Jane and Paula—two talented, insightful individuals who are committed to our mission—engaged in the HACE Nonprofit Leadership Academy is exciting for Erie House. Their growth as leaders means increased impact for our work in the community."
King was promoted to senior director of development and communications last December after serving in the role on an interim basis through much of the past year. She arrived at Erie House in 2012 with a strong background in institutional giving, and her goal is to continue diversifying the agency's revenue streams to promote increased sustainability in the midst of an ongoing state budget crisis.
"The program provides great opportunities for networking," says King, noting diverse representation within the cohort as well as in the cohort's leadership itself. "It's been rewarding to make connections with others and to hear from leaders in the Latino community."
Lombardi's Citizenship & Immigration department has experienced significant growth over the past 18 months, providing comprehensive immigration consultations, conducting workshops and offering civics classes to legal permanent residents on the pathway toward citizenship. Her team operates at three Board of Immigration Appeals-approved sites in addition to hosting workshops at off-site locations across the city and suburbs.
"As a supervisor, I'm excited to see how I can implement some of the strategies I've learned in order to better support the Latino individuals on my team," says Lombardi. "I want to help remove barriers and expand opportunities for leadership roles if they're so inclined."
King and Lombardi will complete their participation in the HACE Nonprofit Leadership Academy in June but say they look forward to continued learning opportunities through HACE's cache of resources and the new professional relationships they are forming within the cohort.