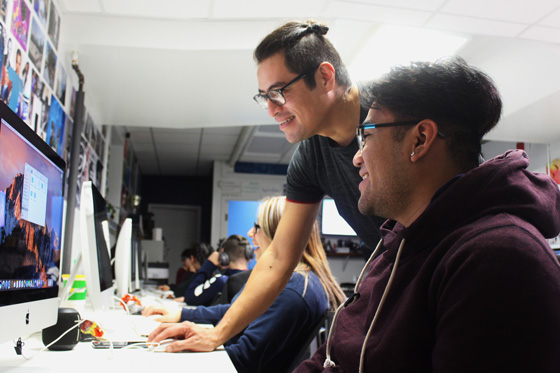 Perspective in—and through—the Arts
It's a Tuesday evening in the fall at Erie Neighborhood House. Jesús González Flores stands in the front of the first floor computer lab, fielding questions from high school students and showing them examples of artists' work using the monitor behind him.
The images depict a variety of lotería playing cards, each an adaptation of the popular game in the BINGO universe that traces its origins to Mexico and draws from the country's cultural influences and identity. They are intended to be inspiration for the students' assignment, which is to develop new playing cards, pairing words with images that reflect their own personal experiences.
"Use your imagination and make it your own," González Flores tells them. He is the digital media coordinator at Erie House and the instructor for Visionaries, an arts initiative funded by the Comcast Foundation and After School Matters that is part of the agency's Youth Options Unlimited program.
His students are working on multiple endeavors simultaneously: The lotería project and another that requires students to edit vector images in Adobe Illustrator to design a sugar skull in honor of Día de Muertos, or Day of the Dead. Both projects feel culturally relevant and appeal to the students' own set of experiences, and these teenage youth seem generally excited about the work they're being assigned.
This lotería project is now a recurring element in the Visionaries curriculum. It's fun, edgy and leaves the door wide open for new ideas and ways the students can execute a concept that is tried and true.
(In fact, students at Erie House developed a complete Chicago-themed lotería set in 2015 that is still a popular item on the program's Etsy store. There are plenty of other beautiful, trendy items for a sale as well; profits from the Four Star Creations Etsy store—the name Erie House students gave their social enterprise in homage to the City of Chicago flag, which features four stars emblazoned across it—go back to the Visionaries program.)
Etsy store items aside, the Visionaries program is just as focused on the process as it is on the product.
"As an instructor, I see the arts supporting students first and foremost through perspective," says González Flores, himself a trained artist who studied at the School of the Art Institute of Chicago. "Yes, students learn the fundamentals of a particular focus or skill set, but I see the underlying foundation to studying the arts as being able to learn, see, hear and appreciate things differently."
For this reason, González Flores values the work he gets to do with students on a daily basis. Visionaries participants are exposed to photography, video production, graphic design and the computer software that each utilizes, he explains, but they also begin to develop a voice with which they can describe their world.
"Students learn the fundamentals of a particular focus or skill set, but I see the underlying foundation to studying the arts as being able to learn, see, hear and appreciate things differently."

– Jesús González Flores, Digital Media Coordinator
González Flores adds that the exposure they receive helps the students expand their college and career possibilities. "They begin seeing and understanding potential opportunities in the arts but also in the fields of computer engineering and information technology," he says.
Jackie, a senior at nearby Rauner College Prep, enjoys the process inherent in working behind the camera. "I like taking photos of people," she says as she edits an image on the computer monitor using Adobe Photoshop. "You can capture their emotions."
She also enjoys the collaborative work she does in Visionaries. "We get more interaction with each other than we would otherwise," she says.
Jackie points to the monitor beside her, where her friend, Edgar, is seated and explains that she took the photograph he's editing. Edgar is the subject in the photograph, and, according to Jackie, he has thus far neglected to give her credit for it.
"I still feel salty about that," she says quietly but with just enough volume for Edgar to hear.
Edgar smiles and explains the work he is doing to transpose the image of himself—"Taken by me," Jackie reasserts—into a customized lotería card. If all goes well, he'll exhibit his finished work at the program's showcase the following month.
A junior at Noble Street College Prep, Edgar has been in the Erie House Visionaries program since his freshman year. "We get lots of hands-on experience," he says, describing some of the software he and his fellow Visionaries participants have learned to utilize. He shows a short video he produced using Final Cut Pro. "For me, I like bikes," he says, "so I've made a couple videos of friends with their bicycles."
One look around the computer lab, an intimate space with a dozen and a half computer stations, and you'll see just how engaged the students are. One of the youth is working on a design of a calavera, or skull, for the Día de Muertos assignment. Another works on a Batman-themed lotería card using Adobe Illustrator. Occasionally students will get up to provide an on-the-spot tutorial to a friend, sharing knowledge they have gained to help enhance the work of their peers.
It is clear that the Erie House program is making an impact, nurturing an enjoyment of learning and providing a tangible skill set to the youth. "I like Visionaries," says Edgar from his spot in front of a computer monitor. "It's such a different experience."