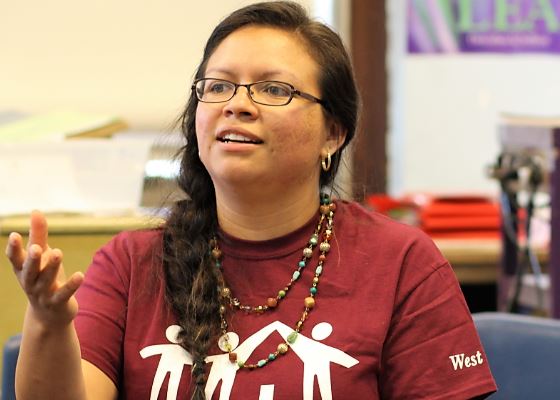 Proyecto Cuídate Works to Address Disparities in Community Wellness
Rosa Sanchez joined the Proyecto Cuídate staff when the program was still getting off the ground. Back in 2014, the violence prevention initiative at Erie Neighborhood House was piecemealing together grant funding and staff assets to address needs in Chicago's South Lawndale/Little Village community, located on the city's Southwest Side.
Today the program has grown—quite considerably. It consists of 8 individuals; 2 staff members are fully dedicated to providing counseling and facilitating group therapy.
"We are a really strong, passionate group of people who care about the work that we do," says Sanchez, who became the Proyecto Cuídate program manager in 2016. "I'm proud of our staff, where we're at and everything we've been able to develop. We've been able to expand and meet some of the needs of the community."
Last year Proyecto Cuídate provided individual therapy to 85 clients, with duration of care ranging from 12 sessions to a year or more.
"We're focusing on the person and their strengths and understanding overall community and individual needs," says Sanchez. "A lot of our clients and families come to us with complex trauma—all these experiences in their lives that add up to form the trauma they have experienced."
"And in order to properly treat someone who has gone through trauma, long-term therapy is important," she adds. "Healing doesn't happen quickly."
The trauma experienced by clients at Erie House often comes in the form of violence, in particular community violence—whether through gang activity, sexual assault, theft and the like—and domestic violence.
But other trauma-inducing factors can include grief over a family member being deported or the anxiety produced by the threat of deportation, economic challenges, acculturation and housing instability.
"A lot of the intake appointments are very, very, very heavy and intense as far as what people bring to the table and what they're holding," says Sanchez.
With that in mind, she praises the work clinical therapist Mariana Martinez has done to manage the intake process at Erie House. "Mariana has been doing a really great job of doing an intake for as many people as possible on our wait list to see where they're at, what they need, the severity of needs—and thinking of creative solutions to reducing the time people need to wait to obtain services."
"A lot of our clients and families come to us with complex trauma—all these little things that add up to form the trauma they have experienced."

– Rosa Sanchez, Proyecto Cuídate Program Manager
Clients on the waitlist currently can expect a minimum of 6 months before they're able to begin therapy. "We are prioritizing our VOCA clients as well as referrals from the Department of Children and Family Services," explains Sanchez. "We're also getting referrals from other partners, or people are just calling us for counseling and therapy services."
VOCA stands for Victims of Crime Act, a bill passed in 1984 to address the needs of the individual(s) against whom a crime was committed—beyond punitive actions toward the offender. Attached to VOCA are special provisions for survivors of domestic violence, including funding for counseling and, for immigrants who qualify, the opportunity to apply for a U-VISA thanks in part to the 1994 Violence Against Women Act (VAWA).
Sanchez describes the therapy sessions as client-centered and strength-based. "It's best to support—not label—people and give them choices with regard to mental health goals," she says.
For Lupe*, a local resident who has received counseling through Proyecto Cuídate, the level of care she encountered at Erie House was transformative.
"Every time I was here I felt happy and calm because I could talk with someone about my problems," says Lupe. She uses words like "safe" and "comfortable" to describe the environment she encountered when first coming to Erie House. "I learned a lot in the program," she adds. "My life's changed."
Through funding from Healthy Communities Foundation as well as a handful of smaller grants, Proyecto Cuídate is able to provide services to clients like Lupe free of charge.
"For adults who don't have insurance or can't afford out-of-pocket costs, therapy can remain out of reach," says Sanchez. "Many of our clients have nowhere else to go or no one else to talk to."
Proyecto Cuídate clinicians are also bicultural and bilingual, making them well-equipped to provide culturally responsive care to children and adults seeking care. "There's a sense of community here," says Sanchez. "People feel comfortable working with us and they trust us."
But even with this level of investment, there is still a vast and shortage of counseling services in the community. "There is not enough access—because of a lack of resources and because of costs—and there are not enough clinicians period on the Southwest Side," says Sanchez. "This is an ethical issue."
Access can be particularly bleak in the Lawndale/Little Village neighborhood. At Erie House, more than 50 individuals are on a waitlist for counseling services; similar waitlists exist at partner organizations scattered throughout the community comprised of primarily Latinx and black families.
To address this disparity, the Collaborative for Community Wellness (CCW)—a network of two dozen agencies, including Erie House—recently published a report entitled, Uplifting Voices to Create New Alternatives: Documenting the Mental Health Crisis for Adults on Chicago's Southwest Side.
"There's a lack of investment in mental health and wellness services in our community, in our city and in our country," says Sanchez. Nevertheless, CCW members do an excellent job collaborating, referring and connecting with one another to promote wellness in the community.
She notes that this lack of investment isn't the case in more affluent parts of the city, bringing up a poignant question: "What can we as a nonprofit organization do to address that?"
It's a question programs like Proyecto Cuídate are doing their best to answer.
* Pseudonym used to protect identity of client