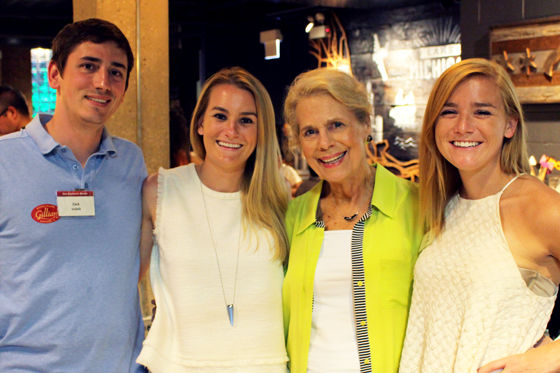 Eva Issleib, a digital project manager at One North Interactive, volunteers as a TEAM mentor and as a member of the Erie Associate Board. She and her EAB colleagues are currently working on planning and promoting the 10th Annual Goose Island Fundraiser on Friday, June 23. We caught up with her to chat about her connection to Erie House and the upcoming EAB fundraiser.
How did you get connected with Erie House?
I've been working with Erie House for a few years now. My grandmother, Nancy Vincent, has been very involved with the board, so she kind of introduced our whole family to Erie. I started working in TEAM, the mentoring program, about 3 and a half years ago. I was paired with a 7th grader who is now a freshman in high school. We help with after-school homework, personal mentoring, and any issues or questions they have that can't be addressed at school or at home.
What do you appreciate most about the work we do?
It's just real work. There are a lot of hardworking people—whether they're mentors or teachers or staff or members of the "big board," as we call it—who are willing to get their hands dirty and really fight for the community as a whole, for these kids and adult learners. Everybody is in it together, everybody has the same mission. When it's the Future of Promise dinner in the spring or the Goose Island Fundraiser, everybody—no matter what role you're in—comes out and supports each other. So it's kind of like a big family, and we all have a unified mission.
Why do you like being part of the EAB?
I joined the Erie Associate Board a year ago. It's nice because we have a lot of different backgrounds. For example, Leo Martinez, who's our president, has been with Erie his whole life and has a bunch of different experiences to share. And we have others who came to Erie more recently but have their own set of experiences. We're all in different professions—we have some attorneys, some marketers, etc.—and a wealth of other resources to draw from. I feel like it's a good combination and we all work really well together.
Tell us about the 10th Annual Goose Island Fundraiser. Why should people come on June 23?
Yeah! Goose Island is my favorite event of the year. It's just a fun kickoff for the summer: There's always Goose Island beer, food, a DJ, it's nice out, and the last couple years we've done brewery tours. This is the 10th anniversary, and it is projecting to be our biggest fundraiser yet (we already have 74 tickets sold as of a few days ago). It's a great way to meet other people who support Erie and get the summer started.
Purchase tickets for the 10th Annual Goose Island Fundraiser.
We're so grateful for the connection we have with (Goose Island founder and Erie House board member) John Hall—he's awesome, and we're glad to have Goose Island in the Erie family, so to speak. It's just a good reiteration of the breadth of support Erie has from the community.