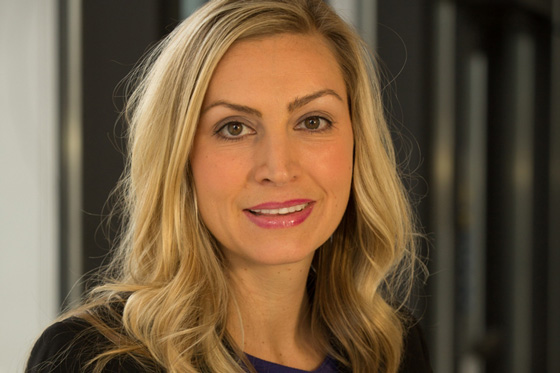 Heather Mejia joined the Erie Neighborhood House Board of Directors this fall after serving on the associate board for the past couple years. She is chief of staff for Allstate's Personal Lines division and lives with her husband and two, soon to be three, children in Chicago's West Town community.
---
How did you first get connected to Erie House?
I moved right down the street from Erie House back in 2011, so I first became familiar just seeing all of the children from the Early Childhood Education program play at Snowberry Park caddy corner from my house. Having the opportunity to get a better understanding of how Erie House was present in my community was sort of my first introduction.
I work at Allstate, and Allstate is very involved in giving back to the community and giving their employees an opportunity to also give back. And so as I was looking to get more involved in the community and looking to give back, I thought Erie House would be a great opportunity since it's right down the street and is a staple in our community. I found out Allstate had been a longtime partner to Erie House throughout the years. So it was a logical connection, bringing together my home-based community, the support of my employer and an organization they were already involved with.
Could you talk about how you ended up first on the associate board?
Allstate was working with a group called Board Lead at the time. I'd attended a few Board Lead sessions, and they said, "Here's our list of organizational opportunities." I saw Erie House on that list and was like, "Well, this is an obvious choice for me! I've always been interested in the organization, and now I'll have the opportunity to see the great contributions they make to my community every day."
Randy DeCoursey, an Allstate colleague who was serving on the board at that time, facilitated an introduction to (senior director of development) Paula King. I had an opportunity to join the associate board and get more involved through volunteer and fundraising activities as well as the broader work Erie House does.
What is your role at Allstate?
I serve as Chief of Staff for Allstate Personal Lines, so my day to day job is to support the president of our division and ensure that we're on the right path towards executing strategies—both long-term and short-term—and achieving business objectives for our shareholders and customers as well as our employees and communities. I would call it a jack-of-all-trade jobs.
Yeah, it sounds like a lot of different hats. You talked earlier about Allstate's commitment to giving back to the community. As an employee, what do you value about that? 
The main thing I value is the ability to do more for the broader good of the world, and that it shows up sort of in everything we do. It's not just about, you know, meeting the needs of our shareholders. It's about doing it in a way that produces an overall well-being for the community, both here in Northbrook (where Allstate is based) and the Chicagoland area, but even more broadly, across the world.
And then I think just having that commitment and support, to be able to dedicate time to volunteer, to sit on boards or become more involved. There are always opportunities, whether it be through matching financial gifts, getting grants for the organizations that you're involved with or being able to interact with fellow colleagues through different volunteer events. That is just a core, foundational part of the culture at Allstate, which I really appreciate.
What are some of the things that you'd like to do with your free time, if there is any?
I have two boys at home and a third boy on the way that's due in January, so I spend a lot of time with my husband and two, soon to be three, sons—doing all things family, whether it be soccer games or being involved at my son's school. My husband and I like to rehab houses as well, so bringing back the beauty of old houses is something we do when we have a little bit of free time.
Conversation edited for brevity and clarity.