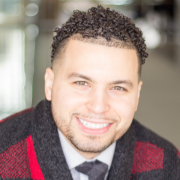 Oswaldo "Oz" Ortega is a native New Yorker who works for Chicago-based architecture firm Gensler and serves as president of the Illinois chapter of the National Organization of Minority Architects (I-NOMA).
Last summer and fall he facilitated a Design Build project through I-NOMA  and Equity Office to renovate our YOU program space, engaging Erie House youth in the process from planning all the way through execution. And earlier this month, Oz joined the Erie Neighborhood House Board of Directors.
---
How did you get interested in architecture and design?
Well, I think it started out when I was a fairly young child. My dad is a carpenter by trade; when I was about 10 years old, he had the opportunity to become a superintendent, or super—which in New York is a facility maintenance supervisor—for an apartment building in Queens. And, as super, he basically flipped the whole building in like two years, fixing every single unit when it was in between renters or when it was on the market. The owner was able to make such a profit that he sold it after two years. I think it was seeing my dad work on the apartments that sparked my initial interest.
How did your vision for the I-NOMA Project Pipeline and the Design Build process come into being?
I think a lot of my opportunity came about in two ways. One, it was coincidental, right? Just hard work and being in the right place at the right time. And then two, it was a relationship that I had with an architect, someone who pointed me in the right direction.
So when I had the opportunity to revamp this program, I drew on those experiences and developed a system that would enhance those opportunities for others. We developed our first camp and workshops, and then after that we ended up funding the Design Build program. We had a lot of assistance from other I-NOMA chapters across the country who were doing it well. I was able to take some ideas from them. We had folks from Philadelphia and from New Orleans. And then, of course, given the history of this city, there were a lot of ideas I could extrapolate from that. It all blended together well.
What about Erie House made you decide to join the board of directors?
Gensler and Erie House have a long relationship together, and I've been wanting to become a mentor ever since (YOU assistant director) Maria Muñoz came here five or so years ago. But I knew I was overextended with all the work I was doing with NOMA. So what we ended up doing was running our first Project Pipeline workshop at Erie House. The next year we were at Erie House and like four or five other locations; last year we were at 12 or 13 and this year we've already done 10. As we keep coming back every year, we've developed really good relationships with folks at Erie Neighborhood House. We offer the youth scholarships to our camps, and they always come. And that's fantastic.
We had developed a rapport with Erie House by the time we had the opportunity to do the Design Build program. We knew there was going to be some bumps in the road, so for our first go-round we felt confident Erie House would work with us. And they were in dire need of a facelift for their program space, so it was great—a real "ying and yang" opportunity.
So even though I wasn't a mentor, I had a deep connection with Erie House. And I guess it was clear to some people that my heart was with the organization even though I wasn't in it, so why not just be in it? I'm already excited, to meet the folks that I've met and to be part of the family. It should be good.
Outside of work, what kinds of things do you enjoy doing?
I like to travel. I've been to a lot of amazing places—that's probably my biggest thing. I'm married with a dog now, so I do "married with a dog" stuff, and that includes traveling. Most of my time that I'm not actively doing something with renovation, I'm either traveling or I'm just with my wife hanging out, just relaxing. I watch TV just like everyone else. What I'm passionate about is what I'm actually doing—that's why I do it. To me, it doesn't feel like it's work or a burden at all.
Conversation edited for clarity and brevity.