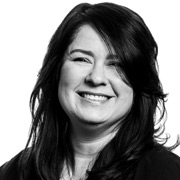 Q&A with Stephanie Kanter
Stephanie Kanter is new to the Erie Neighborhood House Board of Directors. The business support manager at Chicago's Shirley Ryan AbilityLab brings more than 2 decades worth of experience in the nonprofit sector with her and is looking forward to helping Erie House grow and develop as an organization.
---
How did you get connected with Erie House?
I got connected through ADA 25 Advancing Leadership, which is an initiative to connect people with disabilities with opportunities for civic engagement. Erie House senior director of development Paula King had met ADA 25 program coordinator Alex Perez-Garcia at an ADA 25 event and talked about bringing a person with disabilities to the board of directors.
Why did Erie House feel like a good fit?
I wasn't sure at first. I spent time talking with Alex and learning more about the organization. You know I've spent the past 20+ years of my life in the realm of nonprofit work, working in organizations and also serving on various boards. I feel that when I got to know more about Erie House, the work was really close to my heart. And yet it was a new realm for me, so it was a great place to deepen my own knowledge but also bring some of my experience to the organization.
What are some of those strengths and experiences you are hopeful to contribute?
Well, 23 years ago I sustained a spinal cord injury, and after my accident I became involved in disability advocacy. I started working with an organization called Access Living, which is one of the leading disability rights organizations here in the city, working in their development office as the public relations manager. So that's where it all started, and it sort of has evolved and morphed and shifted from there. I've been involved with organizations such as Women in the Director's Chair as a member of their board of directors. (They're no longer around, sadly, but they were a feminist media organization.) I've also served on the board of a foundation which funded gender-specific feminist social change programs. So you can see a bit of a theme, I guess, through all of it.
I've always tried to invest in disability work and currently work as an administrator at the Shirley Ryan AbilityLab where I support their fitness programs, which is one of the community service programs of the hospital providing adaptive sports and fitness opportunities for people with a primary disability. I've been connected with the hospital ever since my injury, as a patient and as a volunteer. It truly is a healing place.
What are some other things that you enjoy doing?
Well, I'm a single mom, so my life really revolves around my daughter. She's 11 years old now, and it's a lot of running around and trying to keep up with her. But it's a lot of fun. We just renewed her passport so we're hoping to get some traveling in the next couple years and explore some of our world together. One of my favorite things to do is travel and it's exciting for me to be able to share that with her.
What's the next place on your itinerary?
The next place on our itinerary is domestic—we have some family we need to visit out west. But I'd really like to get her to Europe and possibly visit friends in Australia. We'll see what time and money can provide for us.
Edited for clarity and brevity.