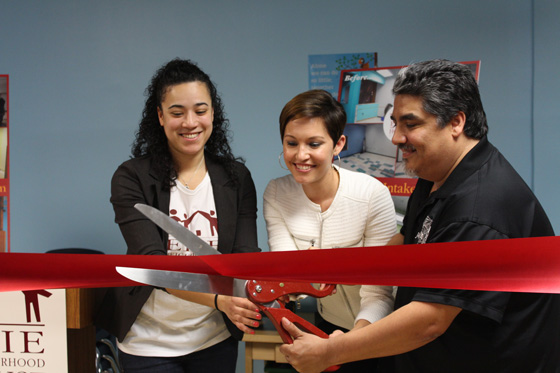 Ribbon-Cutting Ceremony Celebrates New Classroom at Erie House
Erie Neighborhood House hosted a festive ribbon-cutting ceremony and reception on Friday, February 24, to help launch a new initiative in the agency's Expanded Learning Programs for Children and Youth (ELP).
Treehouse Room—a newly renovated childcare "bridge" classroom designed to support children as they transition out of preschool and into a school-age setting—was unveiled to a receptive crowd of approximately 75 people, consisting of donors, board members, staff and participants.
The classroom is nestled on the lower level of West Town's Erie Community Center, 1701 W Superior St, where the agency currently houses its NAEYC-accredited Childcare program and administrative offices. In addition, the Erie House Citizenship and Immigration department offers walk-in consultations each Wednesday at the site.
Teamsters Local 705 and Secretary-Treasurer Juan Campos led the campaign to raise more than $80,000 for the project, which involved renovating a conference meeting room and offices to develop the new classroom. The project also included the repurposing of unused administrative space to develop additional office space for the agency.
"We are so grateful for the generosity Juan Campos and Local 705 have shown to Erie House children and families," says executive director Kirstin Chernawsky. "The Treehouse Room is going to be a second home for some of the youngest kids in our Expanded Learning Programs, and we're excited to be able to provide a safe, nurturing space for them to learn and grow."
Campos, who grew up attending programs at Erie House and has given back to the agency in countless ways, addressed the room full of supporters prior to the ribbon-cutting ritual. He reflected on his childhood and spoke of the importance of community, pausing to remember the example his late mother, Consuelo B. Campos, had set for he and his four siblings. A plaque honoring Consuelo's legacy now adorns the entryway to the classroom.
Remarks were also given by Chernawsky and new School-Age Program site director Alba Galarza-Lopez, who will oversee day-to-day activities in the Treehouse Room.
"Our participants face many obstacles outside of Erie, so we strive to empower them while promoting mental, physical and emotional wellbeing," Galarza-Lopez told the audience at the reception. "I am excited for the opportunities that this room will bring to our participants." She enters this new role after serving as an educator in the School-Age Program's primary location at 1347 W Erie St for the past 3 years.
"Alba will be a great fit for this new role," says Chernawsky. "Her leadership, passion and energy will help establish Treehouse Room as a positive learning environment for our children and families."
ELP currently serves 250 children and youth at two sites, providing both academic and socio-emotional support to foster resilience and the development of all-important life skills. Once it is operational, Treehouse Room will increase the program's capacity to reach an additional 25 students ages 5 to 7.
Erie House will raise important funds for ELP and its students at this year's Future of Promise awards dinner on Thursday, March 16, at Chicago's Radisson Blu Aqua. For more information on attending the dinner, please visit www.eriehouse.org/futureofpromise.