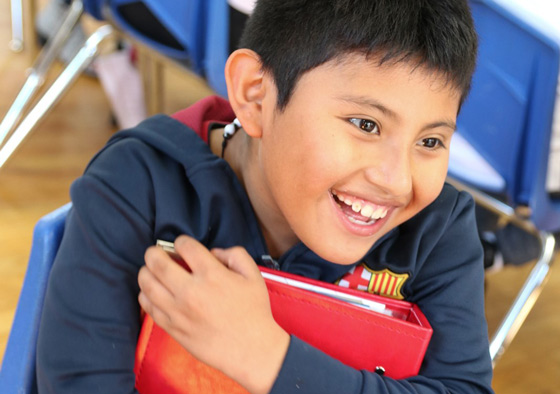 School-Age Children Participate in My Story Matters Project
Luis, a third-grade student in the School-Age Program at Erie Neighborhood House, reads through the My Story Matters scrapbook he has just received. It's a fun collection of photos of Luis and his friends paired with some personal narrative and inspirational quotes.
He points to a quote from Nelson Mandela and inquires about him. When he learns of Mandela's work to end apartheid in South Africa and his resulting imprisonment, a light bulb flashes. "Oh, like Rosa Parks!" he says. "She got arrested for working for civil rights, too."
The My Story Matters project began at Erie House late last summer, when a group of volunteers visited with an ambitious goal in mind: Create a unique scrapbook for more than 60 children ages 8 to 12 in the program.
"It was important to us that every child have one of these books that says, 'My story matters,'" explains Suzy Harris, who approached Erie House about the project last year.
Harris is aunt to Erie House executive director Kirstin Chernawsky and has been a regular volunteer at the annual Holidays with Heart event in December. She is also a consultant who works for Youngevity International's Our Memories for Life division, which caters to the scrapbooking community, so this project represented an intersection of sorts between her professional and volunteer endeavors.
My Story Matters is a nonprofit organization based in Provo, Utah. Over the past 8 years it has served as the catalyst for more than 2,500 storybooks, working primarily in underserved communities to inspire hope, foster greater self-esteem and build connections.
"It helps children reflect on their past, analyze their present, and choose to claim and create their future," says My Story Matters founder Amy Chandler. "When they understand that their story matters, they develop an empathy and a compassion for one another. It's super impactful."
The children were first paired with adults in a computer lab, where they responded to a lengthy series of interview questions. "What we provide is the map for their story," says Chandler. "It looks like a random smattering of questions on a piece of paper, but it took years of research to develop this."
It really was a labor of love. The volunteers all felt really invested in this project.

– Suzy Harris, Volunteer
Following their interview session, children rotated around a series of themed photo booths set up in Templeton Hall. One booth featured an array of superhero props; another had a dry erase board they could use to write words to describe themselves; and another let the children display a flag or flags representing their heritage.
What followed was what Harris can only describe as a "labor of love." She tapped friends, family and others in the community to lend a hand with the task of putting together My Story Matters storybooks for each of the children who participated. "The volunteers all felt really invested in this project," says Harris.
According to Chandler, this is what propels the mission of My Story Matters. "This world is full of amazing, and generous and kind people," she says. "We have over 1,000 volunteers, and we couldn't do this without them."
Harris notes that Ray Kinney donated services through Minuteman Press in Naperville to print and cut thousands of pieces of paper down to size for the scrapbooks. "They never charged us a penny," she says. "Ray's generosity was priceless."
Sixty interview transcripts, 1,500 photos and countless hours of scrapbooking later, Erie House hosted a book reveal celebration with volunteers and students on a sunny spring afternoon earlier this month.
At first, some of the students seem shy and somewhat reluctant to read through their books, let alone share them with their peers. But gradually they warm up to the idea, and the celebration begins in earnest.
"As they take the opportunity to share parts of their story, they're going to find something in common with another human being," says Chandler, who expressed sorrow over being unable to attend the reveal party at Erie House. "You really get to see the ripple effect that will go out into the community. They start to ask more questions of one another and learn more about one another."
As the children page through their books, you can see that so-called ripple effect taking place. Some call out to their friends to share a silly photo or turn to a neighbor to read one of their responses. Others sit more quietly, reading to themselves, smiling at various elements in their storybooks.
Whether the connections take place inside the room or beyond it, the impact is clear. The labor of love Harris and her contingent of volunteers brought to the table has been worth it.
"There's an empathy and sense of community that has developed," says Harris, who sticks around long after the books have been delivered to chat and play board games with some of the children and volunteers. She points to the blank pages included in each of the books. "We hope kids will continue this process as they move through their lives."