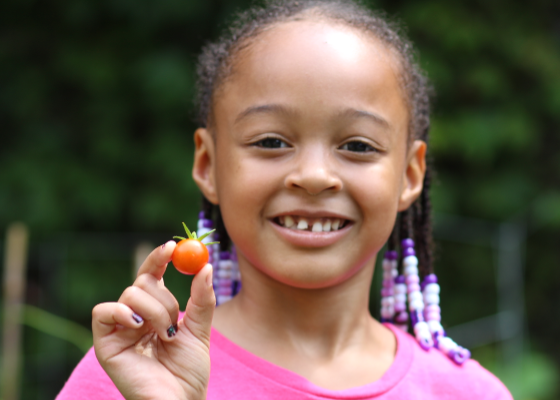 The Chicago Community Trust Awards Unity Fund Grant to Erie House
The Chicago Community Trust (the Trust) has provided Erie Neighborhood House with a $23,000 grant in support of the agency's Health and Leadership Program (HLP).
The grant is being awarded through the Trust's Unity Fund, which disbursed more than $500,000 last year to support 34 nonprofit organizations who provide critical human services and help people meet their most basic needs.
"The Unity Fund strives to ensure that children and youth of Chicago's region, such as those at Erie House, are exposed at an early age to healthy food and health and wellness programs that are accessible and culturally relevant for families," explains Alma Rodriguez, program officer for the Trust.
Erie House will utilize the grant to strengthen HLP's Super H initiative, delivering nutrition education and activities to promote physical and socio-emotional wellbeing in students ranging in age from 2 to 18.
"Nutrition education is important because we want to build healthy habits and an appreciation for fruits and vegetables from a very young age," says Micaella Verro, director of the Health and Leadership Program at Erie House.
"When we teach 3-year-olds how to identify different healthy foods, or 8-year-olds how to use knives safely, or 13-year-olds how to read recipes and nutritional labels, then they all have the tools and knowledge they need to live a healthy life as they grow up," she adds.
At its inception Super H focused on kids in the agency's School-Age Program but it has since expanded to reach both preschool and middle and high school students as well, making health education available to as many as 500 participants each year.
The program isn't solely about education for education's sake; it's also focused on translating learning into action and giving students the opportunity to prepare and eat healthy foods, participate in physical activity that is fun and rewarding, and develop stronger self-esteem.
"Good nutrition is so important for our students' ability to function in school," says Verro. "We want our children and youth to learn, play, and explore while they're growing—putting good fuel into their bodies every day is so important."
Super H activities are available only to students enrolled in Erie House programs. Non-enrolled individuals and families, however, can participate in HLP's Comprando Rico y Sano initiative. For more information, visit www.eriehouse.org/health.