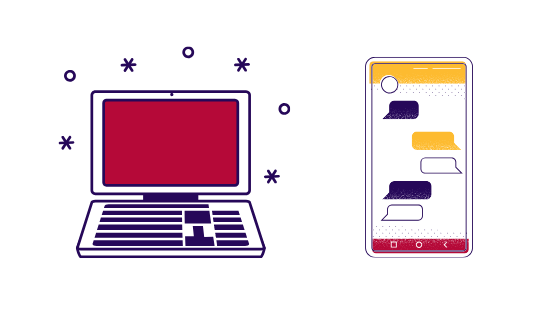 How We're Continuing Our Work Through COVID-19
To help do our part to manage the spread of COVID-19, Erie House made the difficult decision to close for in-person programming and services on March 17. In making all decisions related to coronavirus, we've been in close communication with both the Governor and Mayor's offices.
But even though our doors are closed, we're continuing to serve our community however we can during this crisis.
Programs and Services
Citizenship & Immigration Legal Services – Our team is continuing to provide consultations to clients over the phone for matters like DACA renewals and citizenship applications.
Community Literacy and ESL – Students are being matched with tutors via Skype so video sessions can continue virtually.
Early Childhood Education – Our team is staying in touch with families about their needs through this crisis. We're sharing weekly email updates with resources to help parents support social and emotional development for their children during our closure. Our counselors are also providing therapy as needed for kids and families during this challenging time.
Health & Leadership – Our team is providing assistance over the phone to those seeking to apply for public benefits assistance. We're also hosting Zoom workshops to help keep our community healthy and informed, including Zumba classes, cooking demonstrations, and delivering pubic charge information. Outreach around the 2020 Census is also continuing and we're reaching out to our communities however we can to encourage everyone to participate.
Proyecto Cuídate – Our community wellness programming through Proyecto Cuídate is continuing through mental health counseling via teletherapy, and our team is holding Zoom check-in meetings with youth.
School-age and Youth Programs – We're sharing STEAM activities with our students and providing homework help over the phone. Our youth mentors are also staying in touch with their mentees while schools are closed, and our LV Reads students are receiving digital books to help keep them engaged. We're keeping in touch with all of our families about any needs they may have that we can help support.
Workforce Development – We're conducting daily check-ins with our students to help them finalize their workplace learning and continuing to share employment opportunities including work from home positions. We've also reformatted our curriculum to be able to conduct it online and are currently recruiting for our upcoming healthcare cohort.
Community Relief Fund
We also recognized that many of our participants were in need of assistance covering critical needs in the wake of COVID-19 related job losses. In response to this need, we created the Erie House Community Relief Fund to help cover immediate expenses like groceries, rent, and utilities based on our clients' own unique needs. All donations to the CRF go directly to our participants. You can learn more and donate at eriehouse.org/crf.
And while our buildings are closed, we're standing with our staff. Everyone on our team is continuing to be paid as usual, and those who are able to work remotely are being provided with equipment and resources to help them do so.
Our facilities are currently scheduled to be closed through April 30. Please follow our Facebook page and our COVID-19 updates website page to stay up to date on all information related to Erie House's response to the coronavirus.
Erie House has weathered 150 years of storms — including the Great Chicago Fire just one year after we opened our doors. We've withstood the test of time, and we'll return from this challenge stronger than ever.
Thank you for your support during this time. If you'd like to donate to Erie House, please visit eriehouse.org/donate.