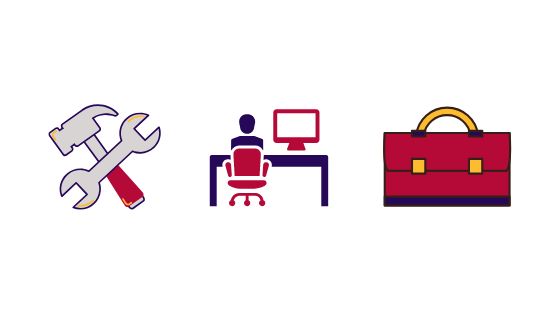 Workforce Development Connects Participants to Experience and Remote Job Opportunities
In our Workforce Development program, we equip adults with the skills, tools, and knowledge they need to earn a living wage and become leaders in the high-demand fields of healthcare, manufacturing, and more.
And even though there is a great deal of uncertainly during these times — particularly around work — we're still here to help our participants with one of their biggest challenges: navigating the employment process.
Work-based Learning Continues for Essential Manufacturing
Through New Era Windows, a partner manufacturing business, our participants are able to continue work-based learning — of course with safety precautions.
New Era Windows was started about 10 years ago as a co-op after 12 of the co-ops current owners were left without work when their employer unexpectedly shut down. The group came together to use the skills they gained on the job to form their own business. Today, they're still going strong and work hard as both owners and employees. So, at this company, our participants are able to not only gain hands-on manufacturing experience, but also learn how to become owners of their own businesses.
Continuing to Connect Folks to Opportunities and Coaching
Even though much of our on-site workforce training has been put on hold due to the pandemic, our team is still hard at work finding job opportunities for our participants.
One great example of this has been one of our participants who was hired on to manage city contracts with Lizzette Medina & Co., a large landscaping company. This person was able to be onboarded and start working immediately. Other office roles that have been filled with this partner company are payroll and dispatcher positions. Other great potential opportunities for our participants through partnerships include roles with other manufacturing companies.
Our team is also actively developing plans for a healthcare curriculum and a program that can be held virtually so that even if we're unable to train our participants in person, they can still get the credentials they need to pursue great careers in health.
And as always, we're here to help with resumés, essential skills, general application help, and connecting to resources like our Community Relief Fund.
In order to help our participants meet more of their immediate, basic needs, during our closure do to the COVID-19 pandemic, we created a Community Relief Fund. All donations to this fund go directly to our participants, including those who are undocumented and have limited access to public benefits. If you're interested in directly supporting or participants during this time to help them cover costs like rent, utilities, groceries, and more, you can visit eriehouse.org/CRF.
Keep following our blog or sign up for our newsletter at the bottom of this page to stay in the know about how the Erie House team is going above and beyond to support our community during the COVID-19 crisis.
You can also learn more about our response to the coronavirus pandemic and access additional resources at eriehouse.org/covid19.